Tuesday, June 5th 2012
Check out this graphics card cooler design concept from the design house of Colorful, the people behind some of the most wacky and ingenuous graphics card cooler designs. The card is touted to be the "world's first liquid nitrogen customized."
Its cooler design is pretty straightforward. The GPU, memory, VRM, and other hot ancillaries make contact with a copper vapor-chamber plate, to which are attached a first stage of aluminum fin heatsinks. This stage can be decked up with a second stage of heatsinks that attach to the first stage using numerous heat-pipes, and a fan can be attached at the center, which ventilate the heatsinks. The fan, along with the second stage, can be removed, to reveal the copper plate that makes direct contact with the GPU. To this, a liquid-nitrogen (LN2) evaporator (parallel or perpendicular to the card's plane), can be attached. The LN2 evaporator cools the entire first stage, which cools not only the GPU, but also the memory, VRM, and other hot ancillaries.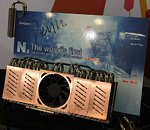 The card is hence easily convertible between air and LN2 modes, and so you could use it for both gaming over reasonably good on-air OC, and over the top OC using LN2. The design could be implemented on future graphics card made by the new Colorful-Chaintech combine.