Monday, July 2nd 2012
Anyfi Networks today announced the general availability of their flagship Wi-Fi mobility solution for Internet service providers, Anyfi.net Simple. "We call it Simple because it's so simple to use: there is absolutely nothing the subscriber needs to do to connect on the go, not even the first time. It's like having your home Wi-Fi network follow you around wherever you go" said Johan Almbladh, CTO of Anyfi Networks. "There is no software to install on the device and no manual registration process. If you have connected your device to Wi-Fi at home it will connect automatically whenever you are close to any one of the ISPs residential gateways."
The trick is combining Wi-Fi with IP, Internet Protocol, to break the tie between logical network and physical access point, effectively letting every subscriber access their own home Wi-Fi remotely, through any residential gateway in the ISPs network.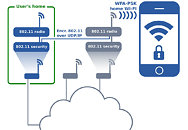 "Our patent pending software, embedded in the residential gateway firmware, listens on the radio for mobile devices. When one is detected the software creates a 'virtual access point' that is indistinguishable from the visitors own home access point. The mobile device will connect to this virtual access point automatically and, when it does, we simply tunnel the raw Wi-Fi radio traffic over the Internet to the visitors own home gateway, where the device can be authenticated using the standard WPA2 security mechanism" explained Johan Almbladh. "Not only do you get a completely seamless user experience but you also get perfect end-to-end security."
The company has been trialing the solution with select Internet service providers for over a year and now claims it is ready for prime time. "The challenge has been in implementing support for all the Wi-Fi chipsets commonly used in residential gateways. Now we have verified the solution on chipsets from the three main vendors in this space. This means we can quickly integrate the software in just about any residential gateway and are ready to start working with more ISPs and residential gateway vendors" said Björn Smedman, CEO of Anyfi Networks.
While this managed solution is targeted at ISPs that can remotely update the firmware in their residential gateways the technology as such is available to anyone. "Our goal is to create an open technology platform," said Björn Smedman. "Our software is available to all residential gateway vendors under a no-charge royalty-free license, and evaluation firmware images can be
downloaded
from our website."