Monday, July 9th 2012
The Thecus users already know that their NAS devices give them the liberty to customize their storage experience to a level that is unmatched. Constantly up-dating their products, the storage expert follows the latest trends and makes sure their users gets to work with the best.
Following the hard drive disks market developments, Thecus never stop to test more brands and more types of drives every day. Already supporting 4TB drives since the beginning of 2012, the list of compatible 4TB HDD devices from Thecus has never been longer.
Including the famous TopTower series, Vision series and many more, the users can add the 4TB drives to practically every Thecus units, making the expansion of the user's storage pool easier and cheaper. Storage capacity is what matters, and Thecus is making it possible by supporting hard disk drives up to 4TB.
In the table below, you will find the complete list of 4TB HDD supported devices. But if you have a doubt that your device isn't compatible, you can always visit our website and check the compatibility list.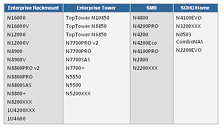 For the HDD compatibility list of Thecus NAS, go to
this page
.