Monday, May 12th 2014
EK Water Blocks, Ljubljana based premium water cooling gear manufacturer, is proud to introduce EK-Dual DDC 3.2 PWM X-TOP, a third generation high-performance aftermarket DUAL pump top (volute) for DDC type water pumps, pre-installed with two
EK-DDC 3.2 PWM
water pumps.
Using two water pumps in series provides almost twice the pressure head (up to 10m) of a single water pump and also guarantees top safety measure - in case of one pump fails the remaining one will provide sufficient liquid flow to prevent any hardware damage due to overheating. Additionally there is no downtime until next scheduled maintenance.
EK-Dual DDC 3.2 PWM X-TOP offers a possibility to be upgraded to a X-RES type unit via
EK-Dual DDC X-RES Link CSQ - Add-on
, which allows for RES X3 reservoir parts to be used in order to make this product a fully fledged combined pump / reservoir unit.
This unit can also be upgraded with EK-DDC Heatsink Housing, available in both
Black
as well as
Nickel
plated version, to ensure best possible cooling to the pump motor and electronics.
EK-Dual DDC 3.2 PWM X-TOP and X-RES Link parts are readily available for purchase through
EK Webshop
and
Partner Reseller Network
. Other products from EK-DDC line include: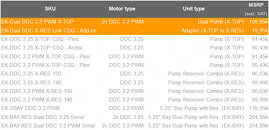 Enclosed:
EK-Dual DDC X-TOP unit with two pre-installed water pumps (DDC 3.2 PWM)
5.25" drive bay mounting bracket
mounting screws
installation manual