Tuesday, July 8th 2008

Chinese website Zol.com.cn reports that in China, stocks of the GeForce 9800 GT card can be purchased from a local production company, a product which hasn't even been announced yet. The 9800 GT differs from 8800 GT in having a 55nm fabbed core that should allow higher parameters, though iroically being identical to its predecessor, the 8800 GT (600/1500/1800 MHz).
We could expect an official announcement soon, and this card could well be priced between US $120 and $140.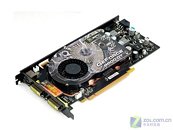 Source:
iXBT