News Posts matching #Cannonlake
Return to Keyword Browsing
At an investor meeting in February, Intel touched upon its performance guidance for its 8th generation Core processor family due for later this year. Based on the 14 nm "Cannon Lake" silicon, these processors are expected to have a bigger performance gain over the preceding 7th gen Core "Kaby Lake" micro-architecture, than Kaby Lake had over its predecessor, the 6th gen Core "Skylake."
In a slide titled "advancing Moore's Law on 14 nm," Intel illustrated how Kaby Lake processors are on average 15 percent faster than Skylake parts, in SYSmark. While Kaby Lake has negligible IPC gains over Skylake, the newer chips are clocked significantly higher, making up Intel's performance targets. Unless Cannon Lake is a significantly newer micro-architecture than Kaby Lake, we could expect them to come with even higher clock speeds. Will the Core i7-8700K be a 5 GHz chip?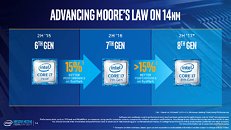 A surprise weekend commit by Intel to the LLVM Clang compiler frontend project Git reveals support for the company's 8th generation Core "Cannonlake" processors. Cannonlake succeeds the 7th generation "Kaby Lake" chips which come out later this year; and is targeted at a 2017 release. Intel's three-letter designation for the architecture, "CNL" tagged a list of processors added to Clang, besides a few processors tagged with "SKL" (Skylake).

The commit confirms that Cannonlake will introduce some new instruction sets, such as AVX-512 (abx512ifma and avx512vbmi), new SHA extensions, and UMIP. With IFMA and VBMI extensions, the AVX-512 instruction set on Cannonlake is more extensive than the one found on current "Skylake" enterprise CPUs (limited to avx512f, avx512cd, avx512dq, avx512bw, and avx512vl).
With Intel's "tick-tock" product development cycle
slowing down
to a 3-launch cadence per silicon fab process, the company is preparing to launch no less than three micro-architectures on its next 10 nanometer silicon fab process. The first 10 nm CPU by Intel will launch in 2017.
In 2016, Intel will launch its 7th generation Core "Kaby Lake" processor, its third chip on the 14 nm process (after "Broadwell" and "Skylake"). The first 10 nm micro-architecture will be codenamed "Cannonlake," and will launch some time in 2017. Intel will build chips on the 10 nm for two more generations after "Cannonlake." The company's 2018 micro-architecture, built on the 10 nm will be codenamed "Icelake," and its 2019 release will be codenamed "Tigerlake." It's only 2020 that the company will pull out its next silicon fab process, 5 nm.
Return to Keyword Browsing