News Posts matching #Xbox Scorpio
Return to Keyword Browsing
Microsoft has been slowly building up its mixed reality endeavor, by baking in support for the platform in its latest
Windows 10 updates
, as well as the recent announcements of actual HMDs from hardware partners like HP and Acer. Acer's solution, their Mixed Reality HMD, will ship to developers and customers with a $400 price-tag for both the headset and a pair of 6 DoF controllers, which easily remind users of HTC's Vive and Oculus's Rift controllers. Microsoft's implementation, however, makes away with the Rift's and Vive's ouside-in trackers, only needing to be within "sight" of the sensors on the front of the HMD to which they're connected, thus making them truly world-scale (if at the expense of some sweet swordplay moves, but I digress.)
In what could spell very interesting things for the uptake of the Freesync 2 open-standard, Digital Foundry has confirmed that Microsoft's upcoming "Project Scorpio" console will leverage AMD's FreeSync 2 standard so as to improve fluidity of frames. The objective is, as usual, to eliminate tearing and reduce stutter, allowing the GPU to trigger the display refresh rate at exactly the same frequency as it can churn out frames. The FreeSync 2 revision of the open standard is HDR-compatible, which means it supports what is being touted as The Next Big Thing in image quality. Like always, the available FreeSync-supported band will still depend on the panel's actual specifications. Additionally, the Scorpio is going to offer support for the upcoming VRR (Variable Refresh Rate) implemented within the HDMI 2.1 specifications.

Though TV panels don't support either of those standards currently, AMD has teased that FreeSync support on TVs would be possible - and upcoming. If true, and if this FreeSync support were to take off, this might spell an increased uptake on AMD's open standard implementation of VRR over NVIDIA's G-SYNC. The adoption of these VRR technologies would also allow developers to perhaps change their performance targets (say, from 60 FPS to 45 FPS), while also increasing fluidity of games that struggle to maintain their target frame rate. The Scorpio could be the first mainstream piece of tech to offer widespread support for VRR standards, thus increasing the user base and industry adoption rate of this technologies, which can only be good. To say that this adoption spells the death of NVIDIA's proprietary G-SYNC is nothing more than wild, boastful speculation; saying it could drive FreeSync and HDMI's VRR implementation towards mainstream usage is not. And that could mean a slow push of G-SYNC towards a niche PC-monitor solution with reduced uptake from monitor manufacturers.
It looks like Microsoft will overpower Sony in the next round of the console wars, with a more powerful SoC on paper. The new XBOX "Scorpio" 4K Ultra HD game console will feature a custom-design SoC by AMD, which will combine not just a GPU based on the "Polaris" architecture, but also a CPU based on the "Zen" microarchitecture. This is significant because it sees a departure from using 8 smaller "Jaguar" CPU cores, and upshifts to stronger "Zen" ones. The chip could be built on the 14 nm process.
The SoC powering the XBOX Scorpio could feature a CPU component with eight "Zen" CPU cores, with SMT enabling 16 logical CPUs, and a "Polaris" GPU with 6 TFLOP/s of compute power. The combined compute power is expected to be close to 10 TFLOP/s. The Radeon RX 480, for instance features 5.84 TFLOP/s of power at its given clock speed. The CPU and GPU will likely share a common memory interface, belting out a memory bandwidth of 320 GB/s. The silicon muscle of this console should power 4K Ultra HD, 1080p @ 60 Hz HDR, and "good VR" solutions such as the Oculus Rift and HTC Vive. Games for the console could leverage DirectX 12.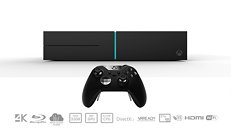 Return to Keyword Browsing