Monday, June 13th 2016
It looks like Microsoft will overpower Sony in the next round of the console wars, with a more powerful SoC on paper. The new XBOX "Scorpio" 4K Ultra HD game console will feature a custom-design SoC by AMD, which will combine not just a GPU based on the "Polaris" architecture, but also a CPU based on the "Zen" microarchitecture. This is significant because it sees a departure from using 8 smaller "Jaguar" CPU cores, and upshifts to stronger "Zen" ones. The chip could be built on the 14 nm process.
The SoC powering the XBOX Scorpio could feature a CPU component with eight "Zen" CPU cores, with SMT enabling 16 logical CPUs, and a "Polaris" GPU with 6 TFLOP/s of compute power. The combined compute power is expected to be close to 10 TFLOP/s. The Radeon RX 480, for instance features 5.84 TFLOP/s of power at its given clock speed. The CPU and GPU will likely share a common memory interface, belting out a memory bandwidth of 320 GB/s. The silicon muscle of this console should power 4K Ultra HD, 1080p @ 60 Hz HDR, and "good VR" solutions such as the Oculus Rift and HTC Vive. Games for the console could leverage DirectX 12.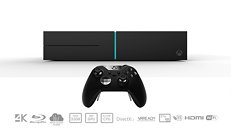 Source: TweakTown