Introduction
AMD launches its newest graphics processor, the Radeon HD 7970 GHz Edition, in a desperate bid to reclaim the single-GPU performance crown from NVIDIA. The move sparks a sense of déjà vu, taking us back to mid-2009, when AMD created the Radeon HD 4890 to compete against the then cheapened GeForce GTX 260 Core 216. While the HD 4890 used a new, redesigned ASIC, the new HD 7970 GHz Edition sticks to the same one as the HD 7970.
The Radeon HD 7970 GHz Edition ships with about 13.5% higher GPU and 9% higher memory clock speeds, it gets its "GHz Edition" brand extension from its ≥1 GHz GPU clock speed. Radeon HD 7870 and Radeon HD 7770 are the other GHz Edition SKUs from AMD. Increased clock speeds aren't the only things new about the HD 7970 GHz Edition; it is also the first high-end AMD GPU to feature PowerTune with Boost, a similar-sounding feature to NVIDIA GPU Boost.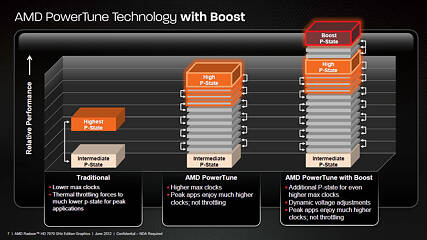 The core of the HD 7970 GHz Edition is clocked as high as 1000 MHz, with a Boost frequency of 1050 MHz; while the memory is upped to 1500 MHz (actual) or 6.00 GHz (GDDR5 effective), resulting in a staggering 288 GB/s bandwidth thanks to the 384-bit wide memory interface. The PowerTune with Boost, on the other hand, is an evolution of AMD's PowerTune technology. Whereas PowerTune provides high maximum clock speeds, PowerTune with Boost uses a new deterministic algorithm that takes into account power-draw and temperatures, to find more opportunities to boost the clock speed. The technology even tunes the voltage, if it is required to support the Boost state, as long as power-draw and temperatures are within acceptable limits.
The card itself doesn't look any different from the reference design Radeon HD 7970, right down to its PCB layout, although we expect the SKU to be mostly sold as non-reference design graphics cards by AMD's contingent of add-in board partners. The move by AMD is to minimize development costs for itself, and its partners. AMD's one point agenda with the Radeon HD 7970 GHz Edition is retaking the performance crown from NVIDIA GeForce GTX 680. It is also priced on-par with it. In this review we will find out if AMD succeeds at it, and if so, at what 'cost'.
HD 7970 Market Segment Analysis
GeForce
GTX 580
Radeon
HD 7950
GeForce
GTX 670
Radeon
HD 7970
HD 7970
GHz Edition
GeForce
GTX 680
Radeon
HD 6990
GeForce
GTX 590
GeForce
GTX 690
Shader Units
512
1792
1344
2048
2048
1536
2x 1536
2x 512
2x 1536
ROPs
48
32
32
32
32
32
2x 32
2x 48
2x 32
Graphics Processor
GF110
Tahiti
GK104
Tahiti
Tahiti
GK104
2x Cayman
2x GF110
2x GK104
Transistors
3000M
4310M
3500M
4310M
4310M
3500M
2x 2640M
2x 3000M
2x 3500M
Memory Size
1536 MB
3072 MB
2048 MB
3072 MB
3072 MB
2048 MB
2x 2048 MB
2x 1536 MB
2x 2048 MB
Memory Bus Width
384 bit
384 bit
256 bit
384 bit
384 bit
256 bit
2x 256 bit
2x 384 bit
2x 256 bit
Core Clock
772 MHz
800 MHz
915 MHz+
925 MHz
1050 MHz
1006 MHz+
830 MHz
607 MHz
915 MHz+
Memory Clock
1002 MHz
1250 MHz
1502 MHz
1375 MHz
1500 MHz
1502 MHz
1250 MHz
855 MHz
1502 MHz
Price
$380
$380
$400
$450
$500
$500
$700
$750
$999