Introduction

AMD today launched its 3rd generation Ryzen processor family. Be sure to catch our comprehensive full reviews of the
Ryzen 9 3900X
and
Ryzen 7 3700X
before you proceed to be up to speed on what's new and how these processors perform when paired with a companion motherboard based on the latest AMD X570 motherboard. AMD delivered on its promise of not forcing obsolescence of its motherboard chipsets every two years by enabling backwards compatibility for the 3rd generation Ryzen processors on both the AMD 400-series and AMD 300-series chipsets with a simple BIOS update.
Most socket AM4 motherboards based on the mid-tier B350/B450 and premium X370/X470 chipsets offer USB BIOS Flashback, a feature that lets you update your motherboard's BIOS without even installing a processor, which will prove incredibly useful if you've bought a brand-new 3rd gen Ryzen processor and an X470 motherboard instead of one based on X570. You can also use 2nd generation Ryzen "Pinnacle Ridge" processors on motherboards based on the X570 chipset if you prefer updating your rig in phases.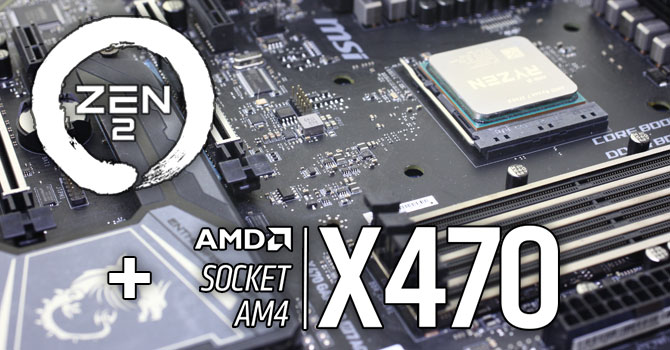 Back when they launched, we didn't bother reviewing the 2nd gen Ryzen processors on 300-series chipsets because the two platforms are practically identical with the exception of proper Precision Boost Overdrive support and lower chipset TDP on the 400-series. The game changes with X570. This is a brand-new chipset developed in-house by AMD. It is rumored to be the same piece of silicon as the Ryzen I/O controller die, but with a few switches toggled to change the connectivity options.
The biggest changes an X570 motherboard has over X470 are the PCI-Express gen 4.0 slots and a revised CPU VRM and memory wiring specification that promises higher power delivery and overclocking headroom, both for the CPU and memory. These, coupled with the richer platform connectivity load-out, such as general purpose PCIe gen 4.0 downstream lanes, integrated USB 3.1 gen 2, etc., make the AMD X570 platform very pricey compared to the X470. Average motherboard prices for this chipset are easily 35–80 percent higher than launch prices of motherboard based on the X470 chipset.
One option, thanks to the USB BIOS Flashback feature we mentioned earlier, is for you to buy one of these new Ryzen chips along with a brand-new X470 motherboard. You lose out on PCIe gen 4.0 for sure, but in this review, we'll examine exactly what else you lose out on—namely, CPU performance (whether it changes)—and also look at CPU overclocking headroom. We also did a separate batch of tests comparing the performance of Precision Boost Overdrive (PBO)—AMD's technology to automagically increases the CPU clock in a safe and stable way without any user interaction.
The X470 motherboard in our review is an MSI X470 Gaming M7, a fairly well-endowed beast. We compare it to our ASRock X570 Taichi we're using in our main reviews of the 3900X and 3700X, too. We updated the X470 motherboard with the latest BIOS update that adds support for the new Ryzen 3000 processors.
Our exhaustive coverage of AMD's 7/7 Launch Day includes the following content:
AMD Ryzen 9 3900X 12-core processor
|
AMD Ryzen 7 3700X 8-core processor
|
AMD Radeon RX 5700 XT graphics card
|
AMD Radeon RX 5700 graphics card
|
AMD Zen 2 Memory Performance Scaling
|
Ryzen 3900X and 3700 on X470 vs X570 platforms
|
Radeon RX 5700 XT Navi PCI-Express 4.0 Performance Scaling
|
ASRock X570 Taichi motherboard
|
ASUS Prime X570-Pro motherboard