Introduction
AMD today announced the Radeon RX 5700 "Navi" series of graphics cards, to have a go at the all-important price-performance sweetspot segment, a narrow and crowded price-band running between $350 to $500. Most serious PC gamers pick up graphics cards from this segment to play their AAA titles at maximum settings and resolutions ranging from the most-popular 1080p to 1440p, which continues to grow in adoption due to monitors getting more affordable. NVIDIA has taken a two-pronged approach to this segment. It introduced the GeForce GTX 16-series that lacks ray-tracing capabilities but is fast enough for 1080p and beyond, while the RTX 2060 is just about fast enough to play anything at 1440p and includes raytracing. In an attempt to preempt Navi RX 5700, the company even introduced the RTX 2060 Super and RTX 2070 Super. AMD in response did last-minute touch-ups to its launch prices, and hence, we have the $349 Radeon RX 5700.
The Radeon RX 5700 in this review is part of a series that includes the more powerful $399 RX 5700 XT,
reviewed here separately
. The two are based on the swanky new "Navi 10" silicon from AMD built on the 7 nm silicon fabrication process at TSMC. "Navi 10" is AMD's second 7 nm GPU after the "Vega 20". It's purpose-built for the client segment and uses more conventional technologies, such as new GDDR6 memory in place of the expensive and complicated HBM2. 7 nm isn't the only buzzword as there's also support for the latest PCI-Express 4.0 bus standard, which is being debuted on AMD's "Valhalla" desktop platform that consists of 3rd generation Ryzen processors and motherboards based on the AMD X570 chipset. This is hence a very big day for AMD as it's launching new products across nearly all of its client-segment brands.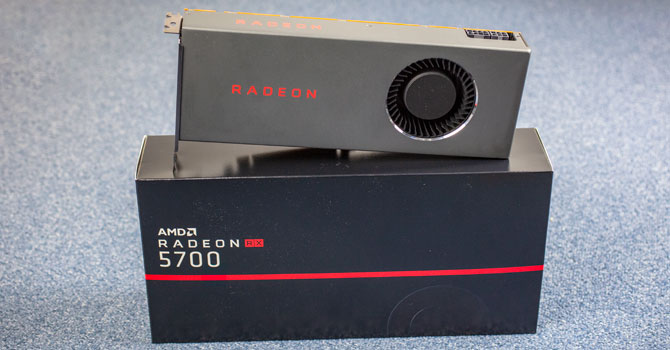 At $349, the Radeon RX 5700 is price-matched with the original GeForce RTX 2060. You have a heftier specifications list if you don't miss RTX: 8 GB of 256-bit GDDR6 memory and 64 ROPs (the RTX 2060 gives you 6 GB of 192-bit GDDR6 memory and 48 ROPs). The extra memory amount may offer some future-proofing if some games lock out the highest graphics settings for not having at least 8 GB of video memory. This was the first thing NVIDIA addressed with its $399 GeForce RTX 2060 Super.
"Navi" isn't an exercise at shrinking existing AMD GPU IP to 7 nm (which is what "Vega 20" was). It introduces RDNA, a brand new compute unit design that aims to increase IPC by double-digit percentages without losing the things that made the older Graphics Core Next (GCN) technology ace general-purpose compute. The RX 5700 is carved out of the "Navi 10" silicon by disabling four compute units out of 40. You end up with 2,304 stream processors and 144 TMUs. The ROP count is unchanged at 64 ROPs, as is the memory amount, bus-width, and frequency. In this review, we put the Radeon RX 5700 through our entire selection of games to test not just its performance but also energy efficiency and noise.
Our exhaustive coverage of AMD's 7/7 Launch Day includes the following content:
AMD Ryzen 9 3900X 12-core processor
|
AMD Ryzen 7 3700X 8-core processor
|
AMD Radeon RX 5700 XT graphics card
|
AMD Radeon RX 5700 graphics card
|
AMD Zen 2 Memory Performance Scaling
|
Ryzen 3900X and 3700 on X470 vs X570 platforms
|
Radeon RX 5700 XT Navi PCI-Express 4.0 Performance Scaling
|
ASRock X570 Taichi motherboard
|
ASUS Prime X570-Pro motherboard
Radeon RX 5700 Market Segment Analysis
Price
Shader
Units
ROPs
Core
Clock
Boost
Clock
Memory
Clock
GPU
Transistors
Memory
GTX 1070
$300
1920
64
1506 MHz
1683 MHz
2002 MHz
GP104
7200M
8 GB, GDDR5, 256-bit
RX Vega 56
$300
3584
64
1156 MHz
1471 MHz
800 MHz
Vega 10
12500M
8 GB, HBM2, 2048-bit
GTX 1660 Ti
$280
1536
48
1500 MHz
1770 MHz
1500 MHz
TU116
6600M
6 GB, GDDR6, 192-bit
GTX 1070 Ti
$450
2432
64
1607 MHz
1683 MHz
2000 MHz
GP104
7200M
8 GB, GDDR5, 256-bit
RTX 2060
$340
1920
48
1365 MHz
1680 MHz
1750 MHz
TU106
10800M
6 GB, GDDR6, 192-bit
RX 5700
$350
2304
64
1465 MHz
1625 MHz
1750 MHz
Navi 10
10300M
8 GB, GDDR6, 256-bit
GTX 1080
$500
2560
64
1607 MHz
1733 MHz
1251 MHz
GP104
7200M
8 GB, GDDR5X, 256-bit
RTX 2060 Super
$400
2176
64
1470 MHz
1650 MHz
1750 MHz
TU106
10800M
8 GB, GDDR6, 256-bit
RX Vega 64
$500
4096
64
1247 MHz
1546 MHz
953 MHz
Vega 10
12500M
8 GB, HBM2, 2048-bit
GTX 1080 Ti
$700
3584
88
1481 MHz
1582 MHz
1376 MHz
GP102
12000M
11 GB, GDDR5X, 352-bit
RX 5700 XT
$400
2560
64
1605 MHz
1755 MHz
1750 MHz
Navi 10
10300M
8 GB, GDDR6, 256-bit
RTX 2070
$480
2304
64
1410 MHz
1620 MHz
1750 MHz
TU106
10800M
8 GB, GDDR6, 256-bit
RTX 2070 Super
$500
2560
64
1605 MHz
1770 MHz
1750 MHz
TU104
13600M
8 GB, GDDR6, 256-bit
Radeon VII
$680
3840
64
1802 MHz
N/A
1000 MHz
Vega 20
13230M
16 GB, HBM2, 4096-bit
RTX 2080
$700
2944
64
1515 MHz
1710 MHz
1750 MHz
TU104
13600M
8 GB, GDDR6, 256-bit