Introduction
From the Corsair website:
Founded as Corsair Microsystems in 1994, Corsair originally developed Level 2 cache modules for OEMs. After Intel incorporated the L2 cache in the processor with the release of its Pentium Pro processor family, Corsair changed its focus to DRAM modules, primarily in the server market. In 2002, Corsair began shipping DRAM modules that were specifically designed to appeal to computer-overclocking enthusiasts. From its roots in high-performance memory, Corsair has expanded its award-winning product portfolio to include ultra-efficient power supplies, builder-friendly cases, ground-breaking CPU coolers, blazing-fast solid-state drives, and other key system components.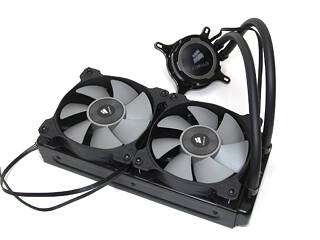 You would have to live under a rock not to know about Corsair. They have products in nearly every conceivable category of the DIY PC market; air coolers, liquid coolers, power supplies, keyboards, mice, fans, cases, and memory. They are a true market leader when it comes to PC parts and accessories, but great products and market penetration are only the tip of the iceberg. Let us not forget their fantastic support and exceptional warranties as these have made Corsair one of the go-to brands for almost anything PC related.
Corsair's popularity in the PC cooling market rests firmly on the Hydro Series line of products. From the H60 for entry-level systems to the H80i for those in need of some extra cooling performance, Hydro products cover nearly every segment of the market,. Then there are the H100i and H110 for extreme cooling purposes as both were until recently the best the cooling line had to offer. When it comes to heatsinks and fans, Corsair really does have a product for just about everyone.
Today, I will look at Corsair's new high-end product, the Hydro Series H105. This AIO liquid CPU cooler is their new top-of-the-line model. It features a 240 mm x 120 mm x 38 mm radiator that is 11 mm thicker than the H100i and H110. With some high speed fans, a new design, and a thicker radiator, the Hydro Series H105 should prove to be a top contender, so let's get down to it to see what it is capable of!
Specifications
MANUFACTURER:
Corsair
MODEL:
Hydro Series H105
SOCKET SUPPORT:
Intel: LGA1155, LGA1156, LGA1366, LGA2011
AMD: AM2, AMD2+, AM3, AM3+, FM1, FM2, FM2+
COLD PLATE:
Material: Copper
RADIATOR:
Dimensions: 270 mm x 120 mm x 38 mm
Material: Aluminum
FANS:
Dimensions: 120 mm x 120mm x 25 mm
Fan Speed: 800 - 2700 RPM (PWM)
Fan Airflow: 73 CFM
Fan Noise: 37.7 dBA
Fan Static Pressure: 3.9 mm H2O
TUBING:
Material: Rubber
FEATURES:
All-new mounting bracket design for easy installation
Three color accent rings
Dual SP120L fans with PWM control
WARRANTY:
Five years
MSRP:
$119.99