Introduction
We would like to thank Corsair for supplying the review sample.
Corsair's plan with the revamped RM line is to offer the same performance levels as with its popular RMx lines at more affordable prices. To achieve this, all RM models come with slightly lower-quality capacitors which will still outlive the ten-year warranty and a more affordable fan that uses a rifle bearing. So instead of the Japanese Nichicon and Chemi-Con caps and bullet-proof NR135L fan the RMx models use, you will find Chinese Elite caps and a Hong-Hua fan in their RM units.
Despite the hardware changes mentioned above, the new RM models score higher than current RMx units in some areas as efficiency levels under ultra-light loads are better and the RM models support the new Modern Standby mode in Windows 10. Depending on the hardware, it usually takes 3–15 seconds for a PC in S3 sleep mode to turn on, while the modern standby function promises to bring this time to just under five seconds. As it seems, thanks to the new standby function, our PCs will be able to wake up as fast as our mobile phones.
In today's review, I am going to take a look at the second-strongest RM model with a maximum capacity of 750 W. The RM750 is fully modular and has two EPS and six PCIe connectors, so you definitely won't be left wanting for connectors. The number of peripheral connectors is sufficient as well, and contrary to the RMx models, no in-cable caps are used for better ripple suppression. As Corsair's PSU R&D director, Mr Jon Gerow, states, extra caps on the cables don't offer notably better ripple suppression. They are mostly used to satisfy strict reviewers (me included). Well, there is a point there indeed as it doesn't matter whether the ripple is 19-20 mV or 9-10 mV, for instance.
That said, this is a race, and the brand or manufacturer offering the best performance should be awarded. Finally, if it were not for weird reviewers (like me) who always ask for more, ripple performance would be considered fine for as long as it below 120 mV at +12V as that is what the ATX spec specifies. While every side of the fence has its points, the good thing is that we can meet somewhere in the middle.
Specifications
Corsair RM750 (2019) Features & Specifications
Max. DC Output
750 W
PFC
Active PFC
Efficiency
ETA-A & 80 PLUS Gold
Noise
LAMBDA-A (20-25 dB[A])
Modular
Yes (fully)
Intel C6/C7 Power State Support
Yes
Operating Temperature
0 °C - 50 °C
Protections
Over Voltage Protection
Under Voltage Protection
Over Power Protection
Over Temperature Protection
Over Current Protection
Short Circuit Protection
Cooling
140 mm rifle bearing fan (HA1425M12F-Z)
Semi-passive Operation
Yes (not selectable)
Dimensions
152 mm (W) x 87 mm (H) x 162 mm (D)
Weight
1.61 kg (3.55 lb)
Compliance
ATX12V v2.31, EPS 2.92
Warranty
10 Years
Price at Time of review (excl. VAT)
$129.99
Corsair RM750 (2019) Power Specs
Rail
3.3 V
5 V
12 V
5 VSB
-12 V
Max. Power
20 A
20 A
62.5 A
3 A
0.3 A
150 W
750 W
15 W
3.6 W
Total Max. Power
750 W
Cables and Connectors
Modular Cables
Description
Cable Count
Connector Count (Total)
Gauge
In Cable Capacitors
ATX connector 20+4 pin (610 mm)
1
1
18-20AWG
No
4+4 pin EPS12V (650 mm)
2
2
18AWG
No
6+2 pin PCIe (600 mm+150 mm)
3
6
16-18AWG
No
SATA (450 mm+110 mm+110 mm+110 mm)
1
3
18AWG
No
SATA (500 mm+100 mm+100 mm)
2
6
18AWG
No
4 pin Molex (450 mm+100 mm+100 mm+100 mm)
1
4
18AWG
No
AC Power Cord (1420 mm) - C13 coupler
1
1
16AWG
-
All cables are long enough, but the distance between the peripheral connectors is short at only 100–110 mm. It should at least be 150 mm, especially on the 4-pin Molex connectors.
Component Analysis
Corsair RM750 Parts Description
General Data
Manufacturer (OEM)
CWT
PCB Type
Double-sided
Primary Side
Transient Filter
4x Y caps, 2x X caps, 2x CM chokes, 1x MOV
Bridge Rectifier(s)
2x GBU1506(600 V, 15 A @ 100 °C)
Inrush Current Protection
NTC thermistor & relay
APFC MOSFETs
2x Infineon IPA60R190P6(650 V, 12.7 A @ 100 °C, 0.19 Ohm)
APFC Boost Diode
1x Power Integrations QH08TZ600 (600 V, 8 A @ 95 °C)
Hold-up Cap(s)
2x Su'scon  (400 V, 330 uF each or 660 uF combined, 2,000 h @ 105 °C LZ)
Main Switchers
2x Infineon IPA60R190P6 (650 V, 12.7 A @ 100 °C, 0.19 Ohm)
APFC Controller
Champion CM6500UNX & CM03X Green PFC Controller
Switching Controller
Champion CU6901V 
Topology
Primary side: Half-bridge & LLC converter
Secondary side: Synchronous rectification & DC-DC converters
Secondary Side
+12V
6x International Rectifier IRFH7004PBF (40 V, 100 A @ 25 °C, 1.4 mOhm)
5V & 3.3V
DC-DC converters: 2x UBIQ QM3054M6 (30 V, 61 A @ 100 °C, 4.8 mOhm) & 2x UBIQ QN3107M6N (30 V, 70 A @ 100 °C, 2.6 mOhm)
PWM Controller(s): uPI SEMI uP3861P
Filtering Capacitors
Electrolytics: 7x Elite (2 - 5,000 h @ 105 °C, EK), 1x Elite (4 - 10,000 h @ 105 °C, EY), 1x Elite (2,000 h @ 105°C, PF), 2x Su'scon (2 - 5,000 h @ 105 °C, MF), 3x Su'scon (4 - 10,000 h @ 105°C, HG),
Polymers: Suncon, Elite, NIC
Supervisor IC
Weltrend WT7502 (OVP, UVP, SCP, PG) & LM393G
Fan Controller
Microchip PIC16F1503
Fan Model
Hong Hua HA1425M12F-Z (140 mm, 12 V, 0.36 A, Rifle Bearing Fan)
5VSB Circuit
Rectifiers
1x Unisonic Technologies 4N65L FET (650 V, 4 A @ 25 °C, 2.5 Ohm)
Standby PWM Controller
On - Bright OB5282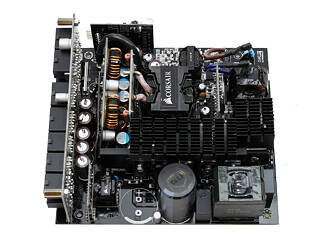 The major differences with the RM750x (2018) are the different capacitors on the primary and secondary sides, Hong Hua fan, and new Champion resonant controller that supports burst operations with ultra-light loads for a major efficiency boost. Finally, the DC-DC converters use different FETs and a new PWM controller.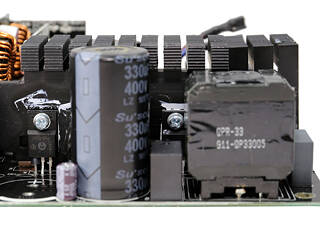 On the primary side, a half-bridge topology is utilized, along with an LLC resonant converter. The bulk caps are by Su'scon, and their combined capacity is lower than with the RM750x (660 uF vs. 860 uF).
Mostly Elite caps are used for ripple filtering on the secondary side, along with a small number of Su'scons. Besides electrolytic caps, a number of polymers are installed as well.
The DC-DC converters that generate the minor rails.
Polymer caps for extra ripple filtering and bus bars for lower losses on power transfers.
Soldering quality is good.
The Hong Hua fan with the rifle bearing. These fans are pretty good and don't cost a fortune, which is why most brands and manufacturers prefer them over more expensive brands (Sanyo Denki, Delta, Protechnic Electric, etc.) For speed control, Corsair uses a Microchip PIC16F1503 as it allows for precise control.