Introduction
NVIDIA launched the GeForce RTX 20-series in September this year, with support for several new technologies like machine learning and RTX Raytracing. This feature is so big for NVIDIA that it has changed the naming of their GeForce cards from "GTX" to "RTX".
NVIDIA RTX is a near-turnkey real-time ray-tracing model for game developers that lets them fuse real-time ray-traced objects into 3D scenes that have been rasterized. Ray-tracing the whole scene in existence isn't quite possible yet, but the results with using RTX are still better-looking than anything rasterizing can achieve. To even get those few bits of ray tracing done right, an enormous amount of compute power is required. NVIDIA has hence deployed purpose-built hardware components on its GPUs that sit alongside all-purpose CUDA cores, called RT cores.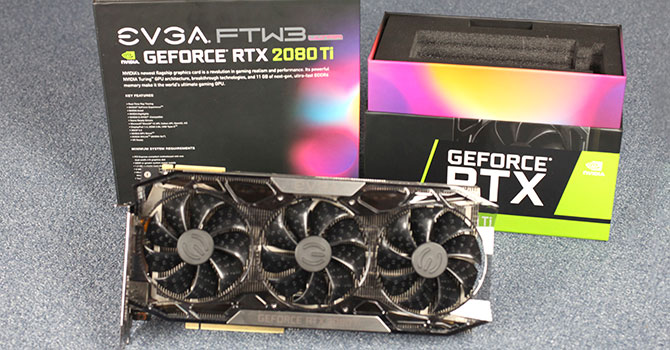 EVGA's RTX 2080 Ti FTW3 Ultra comes with a custom PCB design sporting a powerful 16-phase VRM for the GPU. Also included is a dual BIOS feature and a fan header that's synchronized with the GPU's fan speed, so you can run a case fan at higher speeds only when the card gets warm. EVGA has bumped the board power limit up to 300 W, which is the highest we've seen so far (matching the MSI RTX 2080 Ti Gaming X Trio). Cooling capabilities have also been improved a lot: the card features a triple-slot, triple fan cooler.
Priced at $1349, the card is not cheap—$150 more than the NVIDIA RTX 2080 Ti Founders Edition, but the EVGA RTX 2080 Ti FTW3 Ultra has 120 MHz higher Boost Clock.
GeForce GTX 2080 Ti Market Segment Analysis
Price
Shader
Units
ROPs
Core
Clock
Boost
Clock
Memory
Clock
GPU
Transistors
Memory
GTX 1070
$390
1920
64
1506 MHz
1683 MHz
2002 MHz
GP104
7200M
8 GB, GDDR5, 256-bit
RX Vega 56
$400
3584
64
1156 MHz
1471 MHz
800 MHz
Vega 10
12500M
8 GB, HBM2, 2048-bit
GTX 1070 Ti
$400
2432
64
1607 MHz
1683 MHz
2000 MHz
GP104
7200M
8 GB, GDDR5, 256-bit
GTX 1080
$470
2560
64
1607 MHz
1733 MHz
1251 MHz
GP104
7200M
8 GB, GDDR5X, 256-bit
RX Vega 64
$570
4096
64
1247 MHz
1546 MHz
953 MHz
Vega 10
12500M
8 GB, HBM2, 2048-bit
GTX 1080 Ti
$675
3584
88
1481 MHz
1582 MHz
1376 MHz
GP102
12000M
11 GB, GDDR5X, 352-bit
RTX 2070
$499
2304
64
1410 MHz
1620 MHz
1750 MHz
TU106
10800M
8 GB, GDDR6, 256-bit
RTX 2070 FE
$599
2304
64
1410 MHz
1710 MHz
1750 MHz
TU106
10800M
8 GB, GDDR6, 256-bit
RTX 2080
$699
2944
64
1515 MHz
1710 MHz
1750 MHz
TU104
13600M
8 GB, GDDR6, 256-bit
RTX 2080 FE
$799
2944
64
1515 MHz
1800 MHz
1750 MHz
TU104
13600M
8 GB, GDDR6, 256-bit
RTX 2080 Ti
$999
4352
64
1350 MHz
1545 MHz
1750 MHz
TU102
18600M
11 GB, GDDR6, 352-bit
RTX 2080 Ti FE
$1199
4352
64
1350 MHz
1635 MHz
1750 MHz
TU102
18600M
11 GB, GDDR6, 352-bit
EVGA RTX 2080 Ti FTW3 Ultra
$1349
4352
64
1350 MHz
1755 MHz
1750 MHz
TU102
18600M
11 GB, GDDR6, 352-bit