Introduction
We would like to thank EVGA for supplying the review sample.
While EVGA keeps very strong ties with Super Flower, they are now also cooperating with SF's main competitor Seasonic. These two manufacturers are among the best, and their platforms more often than not leave the competition in the dust. If you are wondering why EVGA struck relations with both OEMs, the explanation is simple: They most likely didn't want to rely on one manufacturer to the exclusion of anyone else, which makes sense. The most educated on PSU matters probably know that EVGA's G2, P2, and T2 lines are by Super Flower, while the GS line consists of nothing but Seasonic-made units. EVGA recently chose to hit the low-mid capacity regions hard by adding corresponding offers to their portfolio. The newer additions to the GS family are the 550 W and 650 W members that utilize a new Seasonic platform we haven't come across so far, a modified platform of the one Seasonic uses in their budget G series line.
The SuperNOVA 650 GS will be on our test bench today. The unit is 80 PLUS Gold certified, utilizes a fully modular cabling design, and has an optional semi-passive operation, which, once engaged, makes the unit nearly inaudible at light and low-mid loads under normal operating temperatures. This PSU also has four PCIe connectors and two EPS connectors that can be used at the same time. This means that it has more than enough connectors to easily deliver its full capacity when supporting a pretty strong gaming system. The new 550 W and 650 W GS units will apparently face the strongest competition from EVGA's own G2 line the company recently added similarly priced units with the same capacities to.
Specifications
EVGA SuperNOVA 650 GS Features & Specs
Max. DC Output
650W
PFC
Active PFC
Efficiency
80 PLUS Gold
Modular
Yes (fully)
Intel Haswell Ready
Yes
Operating temperature
0°C - 50°C
Protections
Over Voltage Protection
Under Voltage Protection
Over Power Protection
Short Circuit Protection
Cooling
120 mm Teflon Nano-Steel Bearing Fan (T1202512LLN)
Semi-passive operation
Yes
Dimensions
150 mm (W) x 86 mm (H) x 150 mm (D)
Weight
1.6 kg
Compliance
ATX12V v2.4, EPS 2.92
Warranty
5 years
Price at time of review (exc. VAT)
$100
As has already been mentioned, the 650 GS is 80 PLUS Gold certified and uses a fully modular cabling design. It is also Haswell ready and can deliver its full power continuously at up to 50°C ambient. Its protection features include everything but OCP, which isn't a must in a single +12V rail PSU, and OTP (Over Temperature Protection), which is essential. Given this unit features a semi-passive operation you can disengage, we did expect Seasonic to include OTP should users prefer to have it operate with the fan constantly engaged.
A rather small nano-steel bearing fan keeps this PSU cool. Small, we believe it will definitely make its presence felt once the load picks up. As you can see in the table above, the 650 GS is quite small, so it will easily fit inside a small chassis. Moreover, the warranty period is rather long at five years; however, EVGA's corresponding 650 W G2 model comes with an even longer warranty of seven year. The price looks decent considering the product's features.
EVGA SuperNOVA 650 GS Power Specs
Rail
3.3V
5V
12V
5VSB
-12V
Max. Power
20A
20A
54A
2.5A
0.3A
100W
648W
12.5W
3.6W
Total Max. Power
650W
Capable of delivering up to 54 A, the +12V rail is pretty strong. The minor rails look weak, but 100 W maximum combined power output on these rails will suffice for a system a mid-capacity PSU like this one can power. We would like to see a slightly stronger 5VSB rail with at least 3 A maximum current output, though.
Cables & Connectors, Power Distribution
Modular Cables
ATX connector (600mm)
20+4 pin
8 pin EPS12V (550mm)
1
4+4 pin EPS12V (660mm)
1
4+4 pin EPS12V (550mm)
1
6+2 pin PCIe (550mm+105mm)
4
SATA (660mm+100mm+100mm+100mm)
4
SATA (560mm+100mm)
2
4 pin Molex (560mm+100mm+100mm+100mm)
3
FDD Adapter (+100mm)
1
EVGA equipped this PSU with lots of connectors, including four PCIe connectors that are available at the same time, alongside two EPS connectors. You'd even have up to three EPS connectors available at the same time if two PCIe connectors cover your needs! This is one of the very few 650 W PSUs with two EPS cables featuring three connectors. Cable length is satisfactory with our only objection being the relatively small distance between the 4-pin peripheral connectors. These should ideally be 13-15 cm long. Finally, all connectors use 18AWG gauges, which is as the ATX spec recommends.
Since this PSU only features a single +12V rail, we do not have anything to comment on about its power distribution.
Packaging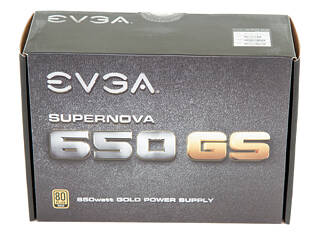 The box is considerably smaller than the one for EVGA's 650 W G2 model; however, its graphical design is the same. At the front are the unit's model number, and the 80 PLUS Gold badge near the front bottom-left corner is pretty small.
EVGA's typical marketing slogan has been put on this side.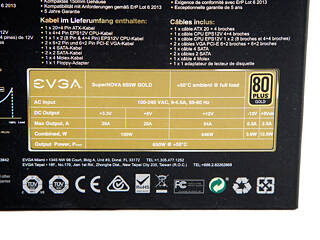 The most interesting photo of the rear is the one with the unit's Chemi-Con bulk cap. You will also find the power specifications table and a graph depicting the fan's operation in both ECO and normal mode on this side.
Contents
The PSU is only protected by some bubble wrap inside the box. We would like to see some packing foam for enhanced protection instead.
The bundle includes the modular cables, some Velcro straps, a set of fixing bolts, the AC power cord, and the user's manual.
The user's manual is common to all lower capacity GS units.