Introduction
2016 was a great year for game franchise reboots, with the likes of "Hitman" and "Doom" successfully making their way back to gaming stardom. IO Interactive is back with a second helping of our upmarket bald stealth assassin who likes to play dress-up. Hitman 2 continues to build the mythology of Agent 47 through the proxy war between secret society Providence and a shadow client who has been paying ICA, handlers of 47, to eliminate key targets within it.
Hitman 2 is more outdoorsy than its predecessor. We begin on a beautiful New Zealand shore as a storm approaches. Our travels take us through exotic locations that are more brightly lit than before and have a healthy mix of indoor and outdoor challenges. Locations include the party districts of Miami, narco-jungles of Colombia, crowded streets of Mumbai, a New England suburb, and a private island in the North Atlantic. Each mission is more diverse than the other, and you spend far less time wandering through corridors with Ctrl held down, finding the nearest closet. Also, unlike Hitman (2016), all chapters are playable on day one.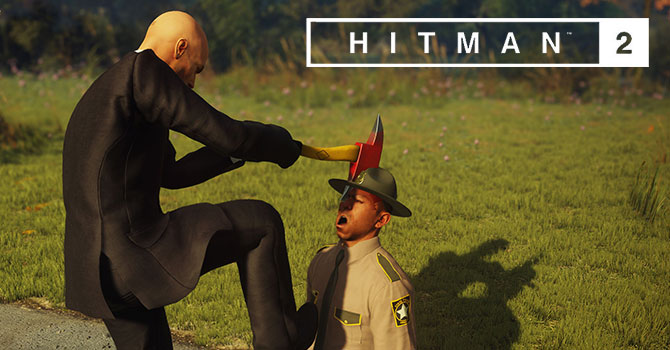 While Hitman (2016) was a tech-demonstrator for DirectX 12, in stark contrast, Hitman 2 completely does away with DirectX 12. The producers are focusing on getting the gameplay and content right without having to spend too much in resources on breaking ground on new tech. Even with DirectX 11, Hitman 2 ends up as one of the slickest-looking third-person games out there, with high attention to detail. In this review, we put the game through our selection of graphics cards, including the latest RTX cards and just-released AMD Radeon RX 590.