Introduction
I would like to thank
Lian Li
for the review sample.
Lian Li's Company Profile

Lian Li Industrial Co., LTD was founded in 1983. We are the one of the largest and most reputable manufacturer of aluminum PC case in Taiwan. With over twenty years of experience in the computer products field, our dedicated team of engineers, production specialists and administrative staff provide the finest quality accessories available on the market.

In 1993, Lian-Li Introduced the new lines of computer hardware, including bracket (for case & interfaces), Mobile rack (for H.D.D.), mounting kit(for FDD & HDD), aluminum PC cases, IPC, external cases, server cases and more. We also provide OEM & ODM services, you are assured of designs that will meet your exact specifications, innovative ideas in manufacturing that will give your products an essential market edge.

Our outstanding quality has earned us ISO 9001 certification for all of our products. In addition, we back up our quality assurance with a two-year guarantee on most of our products.

R&D is one of the reasons why Lian Li is able to offer quality products to the market. Whether it is for OEM or ODM projects, our experienced mechanical and electrical engineers are capable of providing our customers with the best solutions in product design.
Specifications
| | |
| --- | --- |
| Color | Black |
| Drive Bays | 5.25" bay x 5 , 3.5" internal x 10 |
| Material | Aluminum |
| Form Factor | ATX |
| Expansion Slots | 7 standard slots |
| Case Fans | 12cm ball bearing fan x 6 |
| Dimensions | 595mm x 220mm x 588mm (H x W x L) |
| Switches | Power, Reset |
| Top Access | USB 2.0 x 2 , iEEE 1394 x 1 , Mic x 1, Ear x 1 |
Packaging
When the case arrived, the packaging looked like it went through a war. There were some tears in the box, and some parts were slightly crushed. Though this has nothing to do with Lian Li themselves, it would be nice to get everything there undamaged. Another thing that jumped out at me was the shear size of the box; it's absolutely massive.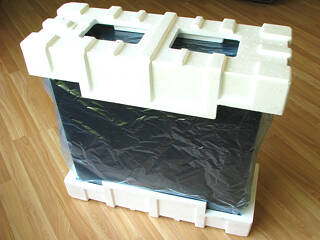 Once the box was opened and the case taken out, we see the packaging did its job of protecting the case. However, some of the front panel 5.25" bezels were knocked out of place and I found them free-falling around the case which did scratch them up somewhat.