Introduction
NVIDIA's GeForce GTX 660 was released almost exactly one year ago. It packs a total of 960 CUDA cores with 80 texture memory units (TMUs), 24 raster operations processors (ROPs), and a 192-bit wide GDDR5 memory interface. Back in the day, the card made waves.
Unlike its "Ti" cousin, the GeForce GTX 660 is not based on the GK104 silicon from which several other GPUs are derived, including the GTX 670, GTX 680, and the dual-GPU GTX 690. The GTX 660 is, instead, based on the GK106 GPU, a physical downscale of the GK104 using the same 28 nm process as all other recent NVIDIA GPUs.
MSI's new GeForce GTX 660 GAMING comes with a big name. We've reviewed nearly every MSI "GAMING" graphics card in the recent months, and they impressed with low noise levels, decent performance, and affordable pricing.
My guess is that sales are going great for MSI, which is why they decided to release a SKU based on the GK106 GPU for which no GeForce 700 variant has been announced yet.
At around $210 for MSI's overclocked GTX 660 GAMING, pricing seems a bit high. The cheapest GeForce GTX 660 is available for $190. MSI is then asking a $20 price premium for the GTX 660 GAMING we are reviewing today.
GTX 660 Market Segment Analysis
Radeon
HD 7850
GeForce GTX
650 Ti Boost
GeForce
GTX 660
MSI GTX
660 GAMING
Radeon
HD 7870
GeForce
GTX 580
GeForce
GTX 660 Ti
GeForce
GTX 760
Radeon
HD 7950
GeForce
GTX 670
Radeon
HD 7970
Shader Units
1024
768
960
960
1280
512
1344
1152
1792
1344
2048
ROPs
32
24
24
24
32
48
24
32
32
32
32
Graphics Processor
Pitcairn
GK106
GK106
GK106
Pitcairn
GF110
GK104
GK104
Tahiti
GK104
Tahiti
Transistors
2800M
2540M
2540M
2540M
2800M
3000M
3500M
3500M
4310M
3500M
4310M
Memory Size
2048 MB
2048 MB
2048 MB
2048 MB
2048 MB
1536 MB
2048 MB
2048 MB
3072 MB
2048 MB
3072 MB
Memory Bus Width
256 bit
192 bit
192 bit
192 bit
256 bit
384 bit
192 bit
256 bit
384 bit
256 bit
384 bit
Core Clock
860 MHz
980 MHz+
980 MHz+
1006 MHz+
1000 MHz
772 MHz
915 MHz+
980 MHz+
800 MHz
915 MHz+
925 MHz
Memory Clock
1200 MHz
1502 MHz
1502 MHz
1502 MHz
1200 MHz
1002 MHz
1502 MHz
1502 MHz
1250 MHz
1502 MHz
1375 MHz
Price
$135
$150
$190
$210
$170
$310
$235
$250
$205
$295
$300
Packaging
Contents
You will receive:
Graphics card
Driver CD + documentation
PCIe power cable
DVI adapter
The Card
Visually, the GTX 660 GAMING looks like any other MSI GTX 700 GAMING card. The card is 26 cm long and 12.5 cm high.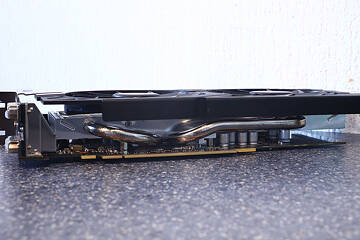 Installing the card requires two slots in your system.
Display connectivity options include two DVI ports, one HDMI port, and one DisplayPort. You may use all outputs at the same time, so triple-monitor surround gaming is possible with one card.
The GPU also includes an HDMI sound device. It is HDMI 1.4a compatible, which includes HD audio and Blu-ray 3D movies support.
A single SLI connector allows you to combine up to two GTX 660 cards in an SLI configuration.
Pictured above are the front and back, showing the disassembled board. High-res versions are also available (
front
,
back
). If you choose to use these images for voltmods, etc., please include a link back to this site or let us post your article.