Introduction

NVIDIA's GeForce GTX 780 has been on the market for a little over a year now, offering excellent gaming performance since. In more recent times, NVIDIA released the GTX 780 Ti. Its performance is higher due to its increased shader count, but it also comes at a higher price.
NVIDIA carved the GeForce GTX 780 out of the GK110 by enabling 12 out of 15 streaming multi-processors on the die, which works out to 2,304 CUDA cores. This sets the texture memory unit count to 192, a 50 percent increase over its predecessor's 128. At 384-bit width, the memory bus is the same, and the GPU still packs five graphics processing clusters and comes with 48 ROPs, which is yet another 50 percent increase. The reference design card we're putting under the knife in this review features 6 GB of GDDR5 memory.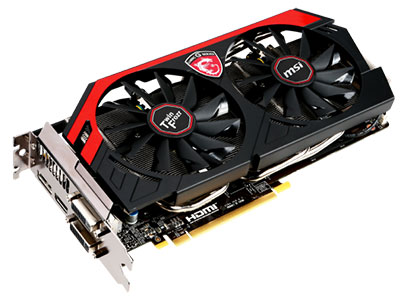 MSI decided to create a GTX 780 with 6 GB VRAM instead of the 3 GB usually found on the GTX 780. The company also has increased the MSI GTX 780 Gaming 6 GB's clock speeds to beyond those of a Titan, which should definitely result in interesting numbers.
With a price of $589, the card retails for around $100 more than a 3 GB GTX 780 and for around $80 less than a GTX 780 Ti.
GeForce GTX 780 Market Segment Analysis
GeForce
GTX 770
HD 7970
GHz Ed.
Radeon
R9 280X
GeForce
GTX 680
GeForce
GTX 780
MSI GTX 780
Gaming 6G
Radeon
R9 290
Radeon
R9 290X
GeForce
GTX Titan
GeForce
GTX 780 Ti
Shader Units
1536
2048
2048
1536
2304
2304
2560
2816
2688
2880
ROPs
32
32
32
32
48
48
64
64
48
48
Graphics Processor
GK104
Tahiti
Tahiti
GK104
GK110
GK110
Hawaii
Hawaii
GK110
GK110
Transistors
3500M
4310M
4310M
3500M
7100M
7100M
6200M
6200M
7100M
7100M
Memory Size
2048 MB
3072 MB
3072 MB
2048 MB
3072 MB
6144 MB
4096 MB
4096 MB
6144 MB
3072 MB
Memory Bus Width
256 bit
384 bit
384 bit
256 bit
384 bit
384 bit
512 bit
512 bit
384 bit
384 bit
Core Clock
1046 MHz+
1050 MHz
1000 MHz
1006 MHz+
863 MHz+
902 MHz+
947 MHz
1000 MHz
837 MHz+
876 MHz+
Memory Clock
1753 MHz
1500 MHz
1500 MHz
1502 MHz
1502 MHz
1502 MHz
1250 MHz
1250 MHz
1502 MHz
1750 MHz
Price
$320
$470
$270
$400
$480
$590
$400
$530
$1000
$660