Introduction
From the Noctua website:
Noctua comes from a cooperation of the Austrian Rascom Computerdistribution Ges.m.b.H. with the Taiwanese cooling specialist Kolink International Corporation, pooling more than ten years of experience in the development, manufacturing and marketing of high-end cooling components. Established in 2005, Noctua took the international silent enthusiasts' hearts by storm and quickly developed into one of the most acclaimed suppliers of premium quality quiet cooling products. Today, Noctua is present in more than 30 countries across the globe and working with several hundred sales partners. Chosen by noise conscious PC users, system integrators and industry clients alike, Noctua has become synonymous with impeccable quality, excellent customer service and class leading quiet cooling performance.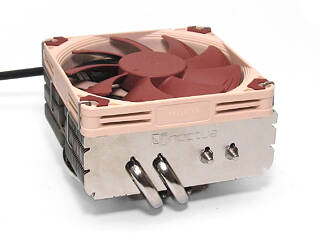 Noctua is a mainstay in the PC cooling industry, having earned a stellar reputation due to exceptional quality and superb attention to detail—with all their products. From their uniquely colored fans to mammoth heatsinks that slay the thermal beast that is your CPU, they probably have what you are looking for. It doesn't hurt that they offer one of the best warranties in the industry and have excellent customer support.
Being the gold standard in performance and low noise, Noctua continues to offer some of the best products available with the NH-U12S, NH-U14S, and NH-D15, among other coolers. With a drive to offer top-notch high quality coolers, it's no wonder Noctua has earned a place in many an enthusiast's system. The question today is whether the NH-L9x65 will uphold that trend.
Noctua's new NH-L9x65 is a low profile, small form-factor cooler. When I say small, I mean tiny as it is only slightly larger than the Intel stock heatsink, which is surprising and begs me to question its maximum potential. While performance most likely won't be its strong point, there is a chance this pint-sized offering will have a few surprises in store.
Specifications
MANUFACTURER:
Noctua
MODEL:
NH-L9x65
SOCKET SUPPORT:
Intel: LGA1150, LGA1151, LGA1155, LGA1156, LGA2011, LGA2011-3
AMD: AM2, AM2+, AM3, AM3+, FM1, FM2, FM2+
HEATSINK:
Material: Aluminum (Fins)
Copper (Heatpipes & Base)
Dimensions: 95 x 95 x 65 mm
Heatpipes: Ø6 mm - 4pcs
Weight: 413 g (w/fan)
FANS:
Model: Noctua NF-A9x14 PWM
Dimensions: 92 mm x 92 mm x 14 mm
Fan Speed: 600 - 1800 RPM (w/LNA) 600 - 2500 RPM (Max)
Fan Airflow: 24.0 CFM (Max w/LNA) 33.8 CFM (Max)
Fan Noise: 14.8 dBA (Max w/LNA) 23.6 dBA (Max)
FEATURES:
65mm low profile
100% RAM compatibility on Intel platforms
100% compatibility with PCIe cards on ITX
Easy access to near-socket connectors SecuFirm 2 mounting system Compatibility with past and future sockets with optional NM-I3 mounting kit
WARRANTY:
Six years
MSRP:
$52.90