Introduction
We would like to thank NZXT for supplying the review sample.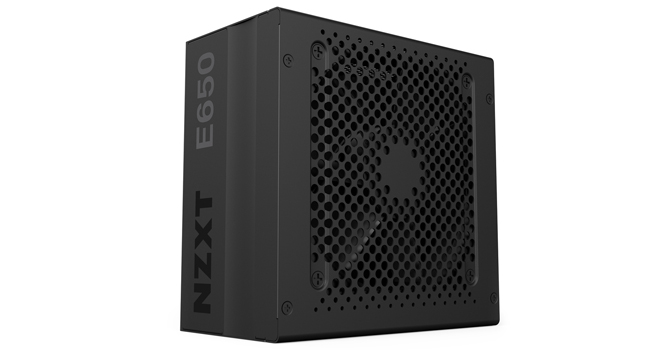 NZXT has again entered the PSU market with the E series consisting of three models with capacities ranging from 500 W to 850 W. These models are based on a modified version of the Seasonic Focus Plus Gold platform, but feature a digital interface, which makes monitoring the PSU through a well-implemented application that provides tons of interesting information possible.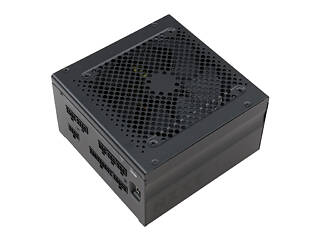 The major downside of NZXT's newest PSU offerings is the production cost, which is clearly reflected in NZXT's asking price. Corresponding Seasonic models are more affordable, which probably makes many wonder why they should pay more for an E series model. The reason could be the software monitoring, which provides lots of monitoring information and brings with it limited control capabilities since users can tune the fan profile and switch between single or multi +12V rail operation. While it also looks nice externally, looks are not important when it comes to a power supply tucked into a chassis.
Specifications
NZXT NP-1PM-E650A Features & Specifications
Max. DC Output
650W
PFC
Active PFC
Efficiency
80 PLUS Gold
Noise
LAMBDA-S+ (35-40 dB[A])
Modular
✓
Intel C6/C7 Power State Support
✓
Operating Temperature
0°C - 50°C
Protections
Over Voltage Protection
Under Voltage Protection
Over Power Protection
Over Temperature Protection
Over Current Protection
Short Circuit Protection
Cooling
120 mm Fluid Dynamic Bearing Fan (HA1225H12SF-Z)
Semi-passive Operation
✓ (selectable in the software)
Dimensions
152 mm (W) x 87 mm (H) x 152 mm (D)
Weight
1.57 kg (3.46 lb)
Compliance
ATX12V v2.31, EPS 2.92
Warranty
10 years
Price at Time of Review (excl. VAT)
$109.99
The efficiency certifications is high enough for both 80 PLUS Gold and Cybenetics, but the noise certification shows that this unit is not among the quietest in the 650 W category. On the contrary, this PSU can easily be called noisy with even its fan profile set to Silent mode. Apparently, the rather small fan doesn't help even though it uses a fluid dynamic bearing since its speed profile isn't tuned properly.
While the semi-passive operation can be deselected, one can only do so in NZXT's CAM application. In our opinion, there should also be an extra switch on the unit's front for that very purpose, and while this PSU is pretty small, the SSR-650FX with the same platform is even smaller.
NZXT NP-1PM-E650A Power Specs
Rail
3.3V
5V
12V
5VSB
-12V
Max. Power
20A
20A
54A
3A
0.3A
100W
648W
15W
3.6W
Total Max. Power
650W
Cables and Connectors, Power Distribution
Modular Cables
Description
Cable Count
Connector Count (Total)
Gauge
In Cable Capacitors
ATX connector 20+4 pin (610 mm)
1
1
18-22AWG
Yes
4+4 pin EPS12V (650 mm)
1
1
18AWG
Yes
6+2 pin PCIe (680 mm+70 mm)
2
4
18AWG
Yes
SATA (500 mm+100 mm+100 mm+100 mm)
2
8
18AWG
No
4-pin Molex (500 mm+100 mm+100 mm)
2
6
18AWG
No
USB Cable (580 mm)
1
1
28AWG
No
AC Power Cord (1400 mm) - C13 coupler
1
1
16AWG
-
The cables are long, but at only 100 mm, the peripheral connectors aren't far enough apart. 150 mm would have been better. Moreover, the ATX, EPS, and PCIe cables feature in-cable capacitors for better ripple suppression. This might improve performance, but makes the cables more rigid, which many users, us included, do not like.
The number of provided connectors looks good with the exception of the single EPS connector. Two EPS connectors would have been better.
Component Analysis
General Data

Manufacturer (OEM)

Seasonic

Platform Model

FX

Primary Side

Transient Filter

4x Y caps, 2x X caps, 2x CM chokes, 1x MOV (S14K300) , 1x Champion CM02X

Inrush Protection

NTC Thermistor & Diode

Bridge Rectifier(s)

2x GBU1006 (600V, 10A @ 100°C)

APFC MOSFETS

2x UTC GPT18N50DG (500V, 18A @ 100°C, 0.265 Ohm)

APFC Boost Diode

1x UTC BYC8-600 (600V, 8A @ 109°C)

Hold-up Cap(s)

1x Nichicon (400V, 470 uF, 2000h @ 105°C, GG)

Main Switchers

4x UTC GPT13N50DG (500V, 13A @ 100°C, 0.49mOhm)

APFC Controller

Champion CM6500UNX

Resonant Controller

Champion CM6901T6X & Texas Instruments UCD3138064A

USB Controller

Microchip PIC16F1455

Topology

Primary side: Full-Bridge & LLC Resonant Controller
Secondary side: Synchronous Rectification & DC-DC converters

Secondary Side

+12V MOSFETS

2x FETs

5 V & 3.3 V

DC-DC Converters: 6x Infineon BSC0906NS (30V, 40A @ 100°C, 4.5 mOhm)
PWM Controller: APW7159

Filtering Capacitors

Electrolytics: Nichicon (4-10,000 @ 105°C, HE), Chemi-Con (4-10,000 @ 105°C, KY), Chemi-Con (105°C, W)
Polymers: FPCAP

Supervisor IC

Weltrend WT7527V (OVP, UVP, OCP, SCP, PG)

Fan Model

Hong Hua HA1225H12SF-Z (120 mm, 12 V, 0.58 A, 2200 RPM, Fluid Dynamic Bearing)

5VSB Circuit

Standby PWM Controller

Excelliance EM8569

Rectifier

1x MBR1045ULPS SBR (45V, 10A @ 90°C)