Introduction
From the Reeven website:
REEVEN is a newly established international manufacturer of PC related products. REEVEN's product lines includes the best quality of advanced CPU coolers, such as Cooling Fans, Power Supply Units, PC Cases and many other items. The target of their products is a wide range of audiences looking for products that will withstand the highest demand.They under the slogan "Professional Quality Gears",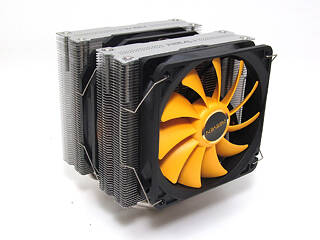 When it comes to CPU coolers, fans, power supplies, and accessories, the fact that you may not have heard of Reeven is no surprise. They are a relative newcomer to the PC-hardware market, which, however, does not mean they should be overlooked. Saying they offer a wide range of coolers to fit any enthusiast's needs would be an understatement.
In today's review, I look at Reeven's top-of-the-line air cooler, the Okeanos. This dual-tower monster of a cooler is reminiscent of Noctua's NH-D14 and features four 6 mm heatpipes, two 8 mm heatpipes, and dual-cooling towers paired with two fans. As such, I definitely expect great things from the Reveen Okeanos.
Specifications
MANUFACTURER:
Reeven
MODEL:
RC-1402
SOCKET SUPPORT:
Intel: LGA775, LGA1150, LGA1155, LGA1156, LGA1366, LGA2011
AMD: AM2, AM2+, AM3, AM3+, FM1, FM2, FM2+
HEATSINK:
Material: Aluminum (Fins)
Nickle-plated Copper (Heatpipes & Base)
Dimensions: 140 mm x 163 mm x 135 mm
Heatpipes: Ø6 mm - 4pcs
Ø8 mm - 2pcs
Weight: 1145 g
FAN:
Model: RM1225S18B-P
Dimensions: 120 mm x 120 mm x 25 mm
Fan Speed: 300 - 1800 RPM (1200 w/ SSA) (PWM)
Fan Airflow: 16.6 - 63.8 CFM
Fan Noise: 4 - 23.6 dBA
FAN:
Model: RM1425S17B-P
Dimensions: 140 mm x 140 mm x 25 mm
Fan Speed: 300 - 1700 RPM (1100 w/ SSA) (PWM)
Fan Airflow: 16.3 - 59.8 CFM
Fan Noise: 5.8 - 21.3 dBA
FEATURES:
Dual Radiator and dual fans for extraordinary performance
Six heatpipes for maximum heat transfer
Nickle-plated heatpipes for top quality and performance
Unique mounting kit of easy installation
SSA (speed switch adaptor) for desireable fan speed adjustment
WARRANTY:
Two years
MSRP:
$79.99