Introduction
Have you ever dreamed of a device that lets you connect all kinds of IDE and SATA devices via your USB port? This is what the Kama Connect does.
You can connect all EIDE and SATA drives, 5.25 and 3.5", CD/DVD-ROM and HDD to it.
Specifications from the manufacturer
Scythe
:
Model Name
Kama Connect
Model #
SCUPS-1000
Manufacturer:
Scythe Co., Ltd. Japan
Dimensions:
72.5 x 56 x 14 mm (Unit)
115 x 57.5 x 32 mm (AC Adaptor)
OS:
Microsoft® Windows® 98SE
Microsoft® Windows® Me
Microsoft® Windows® 2000
Microsoft® Windows® XP
Built-in-LED:
Power On/Off
Access LED
AC Adaptor:
Input: 100~240V, 50/60Hz
Output: 12V=Max. 2000mA, 5V=Max. 2000mA
Includes On/Off Power Switch
Packaging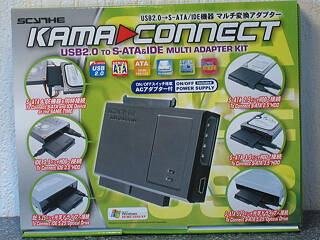 A colorful package shows possible configurations of the Kama Connect.
Inside the package you will find:
Kama Connect
External PSU
Mains power cable
Power Cable
USB Connector Cable
Driver CD (only for Windows 9x)
Instruction Manual