Introduction
I would like to thank
Streacom
for supplying the review samples.
To give you an idea about the brand Streacom, allow me to quote their "About Us" page:
Founded in 2010, Streacom is focused on combining superior design and quality with the latest material and production technologies. With an elite team of engineers, we are absolutely committed to delivering solutions that precisely meet customer requirements for features, performance, and quality. Streacom products are engineered to the highest standards and using only the finest components. Streacom is driven by a passion to design and produce exceptional products that constantly push the limits of aesthetic beauty and technological limitations whilst still being price conscious. Our chassis are made from High-Quality Aluminum material, which is specifically chosen for its premium qualities. Our products can be widely used in a variety of different markets and applications from DIY users to Industrial solutions. We are also specialized in 'custom build' projects to satisfy the specific needs for each independent customer.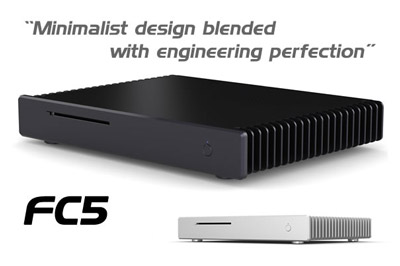 Today we get to take a look at the passive FC5 OD. It is intended to be used as a HTPC chassis and is available in black or silver.
Specifications
Specifications: Streacom FC5 OD
CASE TYPE:
HPTC Chassis
MATERIAL:
Aluminum
WEIGHT:
5.2 Kg
SLOTS:
1
DRIVE BAYS:
1x External 5.25" Slimline Slot-In
2x Internal 3.5" or
3x Internal 2.5"
MOTHERBOARD
FORM FACTORS:
Mini-ITX
mATX
DIMENSIONS:
435mm x 325mm x 60mm (L x W x H)
FRONT DOOR/COVER:
NO
FRONT FANS:
NONE
REAR FANS:
NONE
TOP FANS:
NONE
BOTTOM FANS:
NONE
I/O:
NONE
COOLING SYSTEM:
Six heatpipe passive fanless heatsink System for LGA775/LGA1156/AM2/AM3 Socket CPU
For AM2/AM3 socket use four heatpipes.