Introduction
We would like to thank Super Flower for supplying the review sample.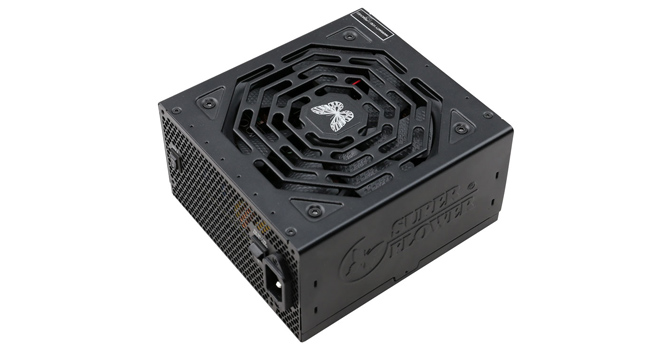 It has been about two years since the release of the
Leadex II
line, and Super Flower has now decided that it is night time for its successor. Among others, Super Flower has vastly improved the performance of the 5VSB rail, making it much more efficient. It has also worked on the semi-passive operation, which now has two modes (0 and 1). However, with overall output noise nearly identical between the two, I didn't notice any significant differences between the two modes of operation.
Super Flower is one of only a few top OEMs with solid high-performance platforms, which are incidentally also key factors for EVGA's success in the PSU market. Thus far, Super Flower doesn't have a retail presence in the US because of a contract it made with EVGA, and given the recent
tariffs
and the fact that its factory is located in China, I don't see this changing any time soon.
The Leadex III models come in four capacities ranging from 550 W to 850 W. All are fully modular and 80 PLUS (Gold) certified. They are also
Cybenetics
ETA-A certified for efficiency and LAMBDA-A (20 - 25 dB[A]) certified for noise (for the newer revision which will go into mass production).
Specifications
Super Flower SF-850F14HG Features & Specifications

Max. DC Output
850 W
PFC
Active PFC
Efficiency
ETA-A & 80 PLUS Gold
Noise
LAMBDA-A
Modular
✓
Intel C6/C7 Power State Support
✓
Operating Temperature
0–50 °C
Protections
Over Voltage Protection
Under Voltage Protection
Over Power Protection
Over Temperature Protection
Over Current Protection
Short Circuit Protection
Cooling
130 mm Fluid Dynamic Bearing (S1282412H)
Semi-passive Operation
✓ (selectable - two modes)
Dimensions
150 mm (W) x 85 mm (H) x 160 mm (D)
Weight
1.54 kg (3.4 lb)
Compliance
ATX12V v2.31, EPS 2.92
Warranty
7 years
Price at Time of Review (excl. VAT)
105.8€
The Leadex III units are a bit smaller in size than the previous generation, and the same goes for the fan, which is now 130 mm instead of 135 mm in diameter. This is the same fan as in EVGA's G3 models, which are also made by Super Flower.
Super Flower SF-850F14HG Power Specifications

Rail
3.3 V
5 V
12 V
5 VSB
-12 V
Max. Power
20 A
20 A
70.8 A
3 A
0.5 A
100 W
849.6 W
15 W
6.0 W
Total Max. Power
850 W
Cables and Connectors
Modular Cables
Description
Cable Count
Connector Count (Total)
Gauge
In Cable Capacitors
ATX connector 20+4 pin (580 mm)
1
1
18-22AWG
Yes
4+4 pin EPS12V (700 mm)
2
2
18-22AWG
Yes
6+2 pin PCIe (550 mm+150 mm)
3
6
18-20AWG
Yes
SATA (550 mm+120 mm+120 mm)
3
9
18AWG
No
4-pin Molex (550 mm+100 mm+100 mm+100 mm)
1
4
18AWG
No
AC Power Cord (1380 mm) - C13 coupler
1
1
18AWG
-
Two EPS and six PCIe connectors are more than enough for a 850 W power supply. The number of peripheral connectors is adequate, but I don't like the small distance between them. Super Flower should leave at least 150 mm between the SATA and the 4-pin Molex connectors. Finally, the ATX, EPS, and PCIe cables use in-line caps for better ripple suppression. Those caps might improve performance, but also make the cables bulkier, so most users don't like them.
Component Analysis
Super Flower SF-850F14HG Parts Description
General Data
Manufacturer (OEM)

Super Flower

Platform Model
Leadex III
Platform Model

Single Side

d
Primary Side
Transient Filter

3x Y caps, 3x X caps, 2x CM chokes, 1x MOV

Bridge Rectifier(s)
1x
Inrush Current Protection
NTC Thermistor & Relay
APFC MOSFETs
2x Infineon IPA50R140CP

(550 V, 15 A @ 100 °C, 0.14 Ohm)

APFC Boost Diode
1x STMicroelectronics STTH8R06D (600 V, 8 A @ 130 °C)
Hold-up Cap(s)
2x Nippon Chemi-Con (400 V, 390 uF each or 780 uF combined, 2000 h @ 105 °C KMR)
Main Switchers
2x Infineon IPA50R140CP (550 V, 15 A @ 100 °C, 0.14 Ohm)
APFC Controller
SF29603
Switching Controller
SF29605 & S9602
Topology
Primary side: Half-Bridge & LLC converter
Secondary side: Synchronous Rectification & DC-DC converters
Secondary Side
+12V
6x Infineon IPP041N04N (40 V, 80 A @ 100 °C, 4.1 mOhm)
5V & 3.3V
DC-DC Converters: 6x Alpha & Omega AON6516 (30 V, 25 A @ 100 °C, 8 mOhm)
PWM Controllers: 2x ON Semiconductor NCP1587A
Filtering Capacitors
Electrolytics: 4x

Nippon Chemi-Con

(105 °C, W), 1x Nippon Chemi-Con (4 - 10,000 h lifetime @ 105 °C, KY), 3x Nippon Chemi-Con (1 - 2,000 h lifetime @ 105 °C, KMG), 9x United Chemi-Con (1,000 h lifetime @ 105°C, KRG), 2x Nichicon (2 - 5,000 h lifetime @ 105 °C, HD), 2x Nichicon (5 - 6,000 h lifetime @ 105°C, HV series), 2x Nichicon (4 - 10,000 h lifetime @ 105 °C, HE)
Polymers: FPCAP, TEAPO, JAMICON
Supervisor IC
SF29603 & LM339A
Fan Model
Globe Fan S1282412H (130 mm, 12 V, 0.35 A, Fluid Dynamic Bearing)
5VSB Circuit
Rectifiers
1x PFC Device PFR20L60CT (60 V, 20 A)
Standby PWM Controller
SF29604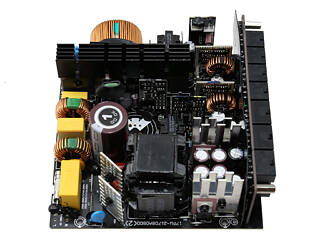 Super Flower changed the resonant and PWM controllers to achieve better performance and higher efficiency. Only in the 5VSB circuit uses the same PWM controller (but the secondary rectifier is different). The cooling fan's diameter has also been decreased to 130 mm.
Filtering capacitors in the secondary side are provided by Japanese manufacturers, but the KMG and the KRG Chemi-Con caps still have low lifetimes. The latter are installed on the modular PCB, so they won't cause any problems since this is a secondary ripple-filtering layer. Besides electrolytics, a number of polymer caps by Japanese and Taiwanese brands are also used.
Some soldering jobs don't look that great, but they won't affect the PSU's performance and reliability negatively.
The modular board hosts a number of polymer and electrolytic (KRG) caps.
The voltage regulators that handle the minor rails.
The Globe Fan cooling fan features a fluid dynamic bearing.