Introduction
We would like to thank TerraMaster for supplying the review sample.
TerraMaster has thus far been known for its affordable NAS and DAS servers, lately also in the mid-level segment, all while improving its operating system. The TerraMaster Operating System, or TOS for short, might not be at the same high levels as Synology's and QNAP's implementations, but it is moving forward in the right direction.
The F5-422 is a capable, home-oriented NAS server featuring a 10 GbE Ethernet and two slower 1 GbE ports. Thanks to the 10 GbE connectivity and support for up to five drives, this NAS can reach high network transfer speeds, which are required by users working with large files (e.g., 4K video editors). Soon enough, 6K and 8K video footage will become the new standard for the majority of videographers, so the need for vast and fast storage options will put products like the F5-422 in the spotlight. If you don't need the extra features and enormous number of apps the competition provides, a product like the F5-422 looks like a good alternative if it performs as well as its manufacturer claims.
My major complains after a quick look at the product specifications are that there is currently no use for the bundled HDMI port since it is not exploited by the software, there are no M.2 slots for SSD caching without sacrificing one of the drive bays, and the number of optional software packages is limited (e.g., there are no surveillance and VM apps). Surely, you pay more to have those apps by getting a NAS from another brand, but to meet the fierce competition, TerraMaster has to offer something similar soon enough. NAS servers have evolved vastly in the last decade and have for quite a while now been more than just plain network-attached storage devices, as most can do way more than just provide storage space.
Specifications
TerraMaster F5-422 Specifications
Processor
Intel Celeron J3455 1.5 GHz Quad-Core Processor (turbo boost up to 2.3 GHz)
Operating System
Embedded Linux
Memory
4 GB SO-DIMM DDR3 (Expandable. Max 8 GB)
Storage
5x 3.5"/2.5" SATA II/III
RAID Levels
Single, JBOD, RAID 0, RAID 1, RAID5, RAID 6, RAID 10
Filesystem Support (internal storage)
EXT4, btrfs
Filesystem Support (external storage)
EXT3, EXT4, NTFS, FAT32, HFS+
Capacity
up to 80 TB (disks not included)
iSCSI
Target & Initiator
Hot-swap
5x
Video Transcoding
8-bit, max resolution: 4K (4096 x 2160), max FPS: 30 (need to install third-party applications)
Hardware Encryption Engine
Yes
Networking
2x 1 GbE, 1x 10 GbE
I/O Ports
USB 3.0 x 2, HDMI 1.4a x 1
Dimensions
227 (H) x 225 (W) x 136 (D) mm
Weight
2.3 kg
Power Consumption
Sleep: 2 W
In operation: 46.6 W
Power Supply
90 W, Internal, 100-240 V, EA10952F-120
Fan
2x 80 mm (A8025L12S)
Warranty
2 years
Price Excluding VAT
(at the time review)

$570
Packaging
The NAS comes in a plain cardboard box, which is sturdy enough to adequately protect it. There is also a handle on top to easily move the box around.
Contents And Bundle
Foam spacers cover the two sides of the NAS.
The accessories box includes all the paperwork, a power adapter, small screwdriver, sets of screws, some stickers, and an Ethernet cable.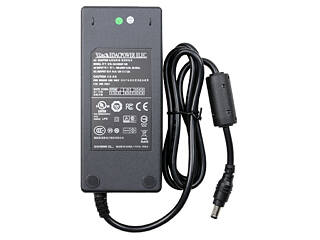 The power adapter is provided by Edacpower Electronics. Its model number is EA10952F-120, and it can deliver up to 7.5 A at 12 V, which is 90 W.