Introduction
We would like to thank XPG for supplying the review sample.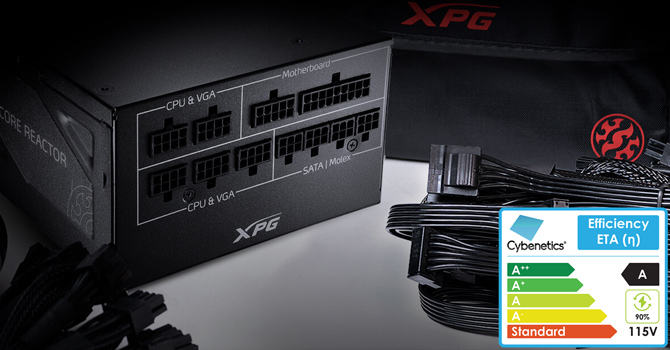 XPG made its debut in the PSU market with the Core Reactor line, which is manufactured by Channel Well Technology and consists of three models with capacities ranging from 650 W to 850 W. All three models are 80 PLUS Gold certified. They have also been certified with respective ETA-A (115 V: 88%–91%, 230 V: 90%–93%) and LAMBDA-A- to LAMBDA-A+ efficiency and noise ratings by Cybenetics.
All Core Reactor models have two EPS connectors, so they are suitable for high-end mainboards, including those equipped with AMD's X570 chipset. A few years ago, only server mainboards required a pair of EPS connectors. However, the comparatively higher CPU core count with today's high-end processors lead to an increase in the power delivery capacity of the corresponding VRMs and, consequently, power consumption. This means a single EPS connector isn't enough anymore, especially for high-end CPUs like the AMD Ryzen 9 3900x and 3950x.
The XPG Core Reactor 750 W has enough capacity to power a potent gaming system (or a video editing workstation). XPG promises a silent operation, and the compact dimensions are a definite advantage of this PSU. At only 140 mm deep, you won't have to worry about whether your chassis will have enough space to accommodate the power supply, and installation will also be easier. That having been said, not all is perfect when it comes to the PSU's installation because the cables aren't all that flexible. The ATX, EPS and PCIe connectors use thicker 16AWG gauges, which means they will give you a hard time during cable management.
Specifications
XPG Core Reactor 750 W
Features & Specifications
Max. DC Output
750 W
PFC
Active PFC
Efficiency
80 PLUS Gold, ETA-A
Noise
LAMBDA-A (20–25 dBA)
Modular
Yes (fully)
Intel C6/C7 Power State Support
Yes
Operating Temperature
0–50 °C
Protections
Over Voltage Protection
Under Voltage Protection
Over Power Protection
Over Temperature Protection
Over Current Protection
Short Circuit Protection
Cooling
120 mm fluid dynamic bearing fan (HA1225H12F-Z)
Semi-passive Operation
No
Dimensions (W x H x D)
150 mm x 85 mm x 140 mm
Weight
1.41 kg (3.11 lb)
Compliance
ATX12V v2.52, EPS 2.92
Warranty
10 years
Price at Time of Review (excl. VAT)
$139.90
XPG Core Reactor 750 W
Power Specifications
Rail
3.3 V
5 V
12 V
5 VSB
-12 V
Max. Power
22 A
20 A
62.5 A
3 A
0.3 A
120 W
750 W
15 W
3.6 W
Total Max. Power
750 W