Monday, November 23rd 2009

Axle today unleash GT 240, a budget solution with exhilarating HD graphic performance and GPU-accelerated Nvidia PhysX game effects.
Axle GT 240 is built with the latest 40nm technology GPU, supporting DirectX10.1 and SM4.1. Positioning as a replacement of Geforce 9600 series, Axle GT 240 is equipped with the GDDR5 memory which brings the users with unexpectedly good performance at such price level.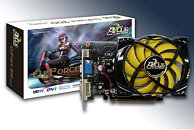 Each new GT 240 GPU is embedded with 96 stream processors, each with a lightning clock of 1340MHz, 32x Texture Filtering Unit, 32x Texture Addressing Unit and 8x ROPs. The clock of the GPU is default at 550MHz. What's more, it features with the unique and unparalleled technologies, Nvidia PhysX and CUDA.
World Class Graphics Performance Plus PhysX
NVIDIA PhysX technology adds an element of realism never before seen in gaming. With an NVIDIA GeForce GPU in your PC, experience dynamic PhysX effects like blazing explosions, reactive debris, realistic water, and lifelike characters. Experience world class graphics performance in games with Axle GT 240.
GPU-Accelerated Video Transcoding, Image Editing and HD Video Playback
Accelerate video transcoding of digital movies to your iPod, PSP, or Zune up to 10x faster than a CPU.* Experience super fast, silky smooth image processing with full GPU acceleration support for Adobe Photoshop CS4.
Axle GT 240 offers all-round video output including one set of native HDMI, DVI and D-sub connectors. To enhance and heave the overall heat-dissipation, the world-famous cooling solution from Artic Cooling is being adopted.