Monday, March 26th 2012

NVIDIA stunned reporters at its GeForce Kepler press-event, by smoothly-running running Epic Games' Unreal Engine 3 "Samaritan" tech-demo on a single GeForce Kepler GPU, when the demo needed up to three previous-generation GPUs. However, Samaritan isn't Kepler's official tech-demo. It is reportedly called "New Dawn", and is a retake on the "Dawn" tech-demo, which baffled the industry, nearly a decade ago. "Dawn" displayed its central character, a fairy by its name, in stunning detail (at the time).
While Dawn was incredibly detailed, its environment was pretty-much just a textured sky-box. "New Dawn" could bring Dawn back into action, focusing on environmental elements such as realistic physics simulation, improved hair animation, and greater detail. NVIDIA has a wealth of new elements to play with, such as a level of tessellation that could be impossible to render smoothly on the competitor's GPU (even if one could run it). NVIDIA could distribute this demo on its websites (NVIDIA.com, GeForce.com), soon. NVIDIA, and rival AMD, release tech-demos with each new GPU architecture, which demonstrate the capabilities of their new flagship GPUs. Pictured below is a frame from the 2003 demo.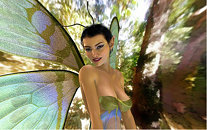 A "sneak-peek" video of the demo follows.

Source: Expreview