Tuesday, September 24th 2013
SMK-Link Electronics Corporation, a subsidiary of SMK Electronics and owner of Gyration, today announced the retro re-issue of two classic wireless keyboards: the 101-key
Gyration Classic Full-Size Wireless Keyboard
, and the 88-key
Gyration Classic Compact Wireless Keyboard
. Both feature sculpted keys, tactile-response typing, dedicated multimedia and Internet browsing keys, and an extended wireless range of up to 100 feet.
"These retro-design classic keyboards from Gyration bring back the look, feel and robust performance of keyboards typical of their era," said John Blair, General Manager of Branded Products for SMK-Link. "They're rugged, accurate and powerful, with an extended range that makes them ideal for use in boardrooms, training centers, meeting halls, houses of worship and outdoor presentation applications."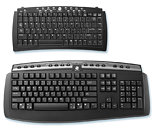 "In addition to their sculpted QWERTY key layouts, both keyboards offer integrated media transport and audio controls as well as Internet browsing keys--making them a good choice for Multimedia rooms and even home entertainment systems," continued Mr. Blair. "With a street price of less than $70, these Gyration Classic Wireless Keyboards offer excellent performance and value, packaged in a retro look and feel."
Gyration Classic Full-Size and Compact Wireless Keyboards
101-key and 88-key sculpted key layouts
Tactile response typing action
Media transport and audio controls
Dedicated Internet browsing keys
2.4 GHz RF USB receiver
100 foot (30 meter) wireless range
Windows/PC and Mac OS X compatible
Street price: $69.99