Wednesday, May 14th 2014
Virtium, the embedded industry's trusted supplier of highly reliable infrastructure SSDs and industrial memory modules, today introduced its second generation StorFly SATA 6G (SATA III) solid state drive product family. Virtium's Gen2 StorFly SSDs family is available in 2.5 and 1.8-inch SATA, M.2, mSATA, Slim SATA, and CFast form factors. Designed to meet the diverse storage requirements of mission-critical embedded applications, Virtium's second generation StorFly SSD products provide superior endurance and are engineered for extended product lifecycles. The new StorFly products are optimized for the data types and workloads of a wide range of infrastructure applications including networking, communications, industrial, remote monitoring, transportation, digital signage and gaming systems.
Greatly minimizing the need for costly product requalifications, Virtium's StorFly PE Class SLC-based SSDs will maintain stable configurations for at least three or more years enabling OEMs to realize a considerable total cost-of-ownership (TCO) advantage. The new StorFly SATA SSDs deliver four times the read performance, along with improved error-checking and correction (ECC) and wear-leveling capabilities, providing greater levels of reliability and endurance compared to the first generation StorFly SSDs. The new StorFly designs also support SMART commands and feature Virtium's vtGUARD power fail protection technology to protect against potential data corruption as a result of an unexpected power loss.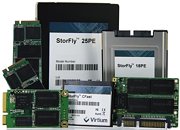 "Virtium is focused solely on the needs of the OEM and industrial/embedded market. As such, Virtium's goal is to provide OEMs with some of the longest product lifecycles in the industry to help minimize costly and disruptive requalifications. With its second generation StorFly SATA SSDs, Virtium is able to guarantee that its SLC-based StorFly PE class products will not cause a requal for at least four years," said Scott Phillips, director of marketing at Virtium. "While StorFly SLC-based SSDs clearly offer the highest TCO advantage, Virtium also offers solutions using the latest generation MLC NAND technology for budget-constrained projects. In the end, it's all about addressing needs and solving problems."