Thursday, August 28th 2014
TUL Corporation, a leading manufacturer of AMD graphic cards, today introduces a unique exclusive model for Japan, the PowerColor R7 250XE. The "E" represents the meaning of "Eco"; the brand-new R7 250X features no need for external power, saves more energy yet delivers the best performance out of its class. Moreover, PowerColor R7 250XE is designed in low-profile, saving lot of space in your case, making it a excellent choice for users who search for powerful, lower power requirements as well as quieter VGA card.
The R7 250XE runs the clock speeds up to 860MHz for the core and 1125MHz for the memory, delivering the best performance in its class. Also, use a 128-bit memory interface and 1GB of GDDR5 memory, allows more bandwidth for demanding DirectX 11.2 gaming title. What's more, the new model is packed with a total of 1120 stream processors, delivering massively parallel computing power for graphics and other accelerated applications.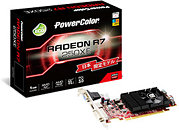 PowerColor R7 250XE is successfully introduced with bunches of innovative technologies. With Mantle support, game developers can get the unparalleled access to the GPU core, and bring a brand new way of looking at the world of digital gaming. By using the AMD CrossfireTM technology, users can get exceptional performance scaling with a second GPU. The AMD Power Management technologies combine AMD PowerTune technology and AMD ZeroCore Power technology, delivering intelligent power monitoring and allowing GPU to consume virtually no power when in idle mode.