Sunday, June 10th 2018
Bethesda made a significant announcement that's bound to divide opinion among "Fallout" fans. The next entry to the franchise, "Fallout 76," which was announced a little earlier this month, was detailed a little further by the studio at its pre-E3 presser. Turns out, that the game doesn't have a full single-player experience, that it's online-only, and that you'll need to team up with three other online players to complete the important parts of the game's campaign.
Bethesda reaffirmed that while you can try to go it alone with the campaign, key parts of it involve quasi tower-defence elements, in which you cooperate with up to three other players to build a base, maintain it, fight bosses together, fend off attacks from rival teams, and pillage other team's bases for loot. In other words, it's next to impossible to finish the campaign on your own. Fallout 76 arrives this November.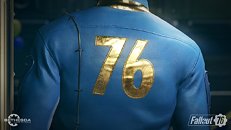 Source:
The Verge