Tuesday, January 29th 2019

De-noising is a vital post-processing component of ray-traced images, as it eliminates visual noise generated by too few rays intersecting pixels that make up an image. In an ideal world, a ray should hit every pixel on the screen, but in the real world, computing hasn't advanced enough to do that in reasonable/real-time. Denoising attempts to correct and reconstruct such images. Intel today launched a free Open Image Denoise (OIDN) library for ray-tracing.
Governed by the Apache 2.0 license, OIDN is part of Intel Rendering framework. From the looks of it, the library is CPU-based, and leverages 64-bit x86 CPU (scaling with multi-core and exotic instruction-sets), to de-noise images. Intel says OIDN works on any device with a 64-bit x86 processor (with at least SSE4.2 instruction-set), although it can take advantage of AVX2 and AVX-512 to speed things up by an order of magnitude. The closest (and closed) alternative to OIDN would be NVIDIA's AI De-noiser. NVIDIA "Turing" GPUs use a combination of ad-hoc deep-learning neural networks and GPU compute to de-noise. You can
freely access
OIDN on Intel's Git.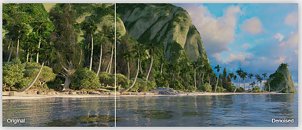 Source: Intel Open Image Denoise Library (Github)