Thursday, February 20th 2020
EK, the leading premium water cooling gear manufacturer, is proud to introduce the EK-Loop Connect, a straightforward information and control hub for all the relevant parameters of your liquid cooled PC.
EK-Loop Connect
A Fan, Pump, and an Addressable D-RGB controller unit that is designed from the standpoint of an enthusiast. With this control hub you can easily set your desired RGB lighting effects with just a few clicks, as well as optimize your cooling performance, and noise levels through a simple PWM chart or pre-defined profiles. That's not all though, as you'll have the option of using external temperature sensors, flow meters, and coolant level probes.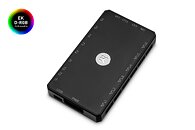 The easy-to-navigate software interface is simple enough for beginners and advanced enough for enthusiasts. All major features of the software are thoughtfully laid out to keep your custom liquid cooling loop healthy!
EK-Loop Connect is designed and engineered in Slovenia, Europe, made in China and is available for order for €54,90.