Monday, July 20th 2020
Logitech International today announced financial results for the first quarter of Fiscal Year 2021. "We delivered an exceptional first quarter and are raising our fiscal year outlook," said Bracken Darrell, Logitech president and chief executive officer. "We grew sales 25% with strong growth in almost every product category. Our company strategy focuses on four long-term trends: more of us will work from home; video calls will replace audio calls; esports will become as big as conventional sports; and billions of people worldwide will create content, not just a handful of TV and movie studios. Logitech's business was already positioned to grow from these long-term trends, and since early March they have accelerated, making Logitech more relevant to customers than ever before."
Logitech raised its Fiscal Year 2021 annual sales outlook from mid single-digit sales growth, to 10 to 13 percent growth in constant currency. The Company also raised its annual outlook for non-GAAP operating income from a range of $380 million to $400 million, to a range of $410 million to $425 million.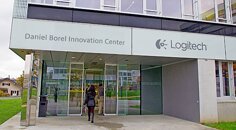 Q1 sales were $792 million, up 23 percent in US dollars and 25 percent in constant currency, compared to Q1 of the prior year.
Q1 GAAP operating income grew 76 percent to $83 million, compared to $47 million in the same quarter a year ago. Q1 GAAP earnings per share (EPS) grew 56 percent to $0.42, compared to $0.27 in the same quarter a year ago.
Q1 non-GAAP operating income grew 75 percent to $117 million, compared to $67 million in the same quarter a year ago. Q1 non-GAAP EPS grew 64 percent to $0.64, compared to $0.39 in the same quarter a year ago.
Cash flow from operations was $119 million, compared to $37 million in the same period a year ago.
Prepared Remarks Available Online
Logitech has made its prepared written remarks for the financial results teleconference available online on the Logitech corporate website at http://ir.logitech.com.