Wednesday, January 28th 2009
Super Talent Technology, a leading manufacturer of Flash storage solutions and DRAM memory modules, today launched an SSD, offered in capacities up to 64GB, that was specially designed as an upgrade for the Asus S101 Eee PC.
The Windows model of the S101 includes only 16GB of local storage, so Super Talent's upgrade SSD offers the S101 user the opportunity to double or quadruple the storage capacity in his netbook.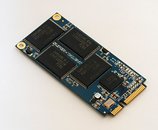 This new SSD has been rigorously tested in Super Talent's compatibility labs for both performance and functionality to ensure it meets Super Talent's high quality standards. With a SATA interface, it delivers impressive 90 MB/sec max sequential read speeds and up to 55 MB/sec write speeds. Joe James, Super Talent's director of marketing noted, "You can never have enough storage space. This is sure to be a popular upgrade for the S101." All three models are shipping now. The 64GB model will retail for approximately $169. For more details, visit the
product page
.