Introduction
Today AMD released their new Radeon HD 4830 Series of graphics cards. The cards are positioned in the $100 to $150 segment to put additional pressure on NVIDIA.
Compared to the bigger brother, the HD 4850, AMD reduced the number of shaders from 800 to 640. The number of texture units is also lower with 32 instead of 40. Last but not least, the clock frequencies were reduced to 575 MHz core and 900 MHz memory as well.
PowerColor's Radeon HD 4830 has the exact same specifications as the AMD reference design but comes with a PCB designed by PowerColor (probably for cost reasons) and a dual slot cooler (for lower temperatures). Also included is a native HDMI output which emphasizes the potential use as a media PC card. While the exact price is not known yet for the Powercolor variant, expect it to be about $10 to $15 cheaper than the AMD reference design.
PLEASE NOTE:
There is an issue with the HD 4830 sample from AMD. It has only 560 shaders instead of the intended 640. That's why the scores of the AMD card are so different. The card tested in this review has 80 missing shaders and does not represent intended HD 4830 performance. Read more about this here.
Radeon
HD 4350
GeForce
9400 GT
Radeon
HD 4550
GeForce
9500 GT
Radeon
HD 4670
Radeon
HD 3850
Radeon
HD 3870
GeForce
9600 GT
Radeon
HD 4830
GeForce
8800 GT
GeForce
9800 GT
Radeon
HD 4850
Shader units
80
16
80
32
320
320
320
64
640
112
112
800
ROPs
4
8
4
8
8
16
16
16
16
16
16
16
GPU
RV710
G96
RV710
G96
RV730
RV670
RV670
G94
RV770
G92
G92
RV770
Transistors
242M
314M
242M
314M
512M
666M
666M
505M
956M
754M
754M
956M
Memory Size
256 MB
512M
512 MB
256 MB /
512 MB
512 MB
256 MB
512 MB
512 MB
512 MB
512 MB
512 MB
512 MB
Memory Bus Width
64 bit
128 bit
64 bit
128 bit
128 bit
256 bit
256 bit
256 bit
256 bit
256 bit
256 bit
256 bit
Core Clock
600 MHz
550 MHz
600 MHz
550 MHz
750 MHz
670 MHz
777 MHz
650 MHz
575 MHz
600 MHz
600 MHz
625 MHz
Memory Clock
500 MHz
400 MHz
800 MHz
900 MHz
1000 MHz
828 MHz
1126 MHz
900 MHz
900 MHz
900 MHz
900 MHz
993 MHz
Price
$49
$59
$59
$89
$85
$99
$125
$90
$130
$140
$160
$170
Packaging & Contents
We received just the card from AMD, without package or any accessories. Retail cards will of course include the appropriate accessories like manual, driver CD and adapter cables.
The Card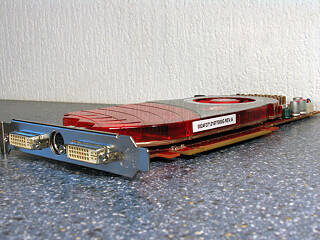 Like the HD 4850, AMD's HD 4830 uses a single slot cooling solution. Actually, the cooler is the same as on the reference design HD 4850.
The card has two DVI ports which is the standard output configuration nowadays. If you need a VGA port you can use the included DVI adapter. When using a HDMI adapter (included as well), you will also have access to HDMI+HDCP+Audio, which allows easy setup of a media PC. AMD has integrated a Realtek 7.1 audio device inside the GPU which means that the sound card's HDMI output shows up as sound device in Windows. In my opinion this is an easier solution than on NVIDIA's cards where you have to route an audio cable from your motherboard to the VGA card.
Here are the front and the back of the card, high-res versions are also available (
front
,
back
). If you choose to use these images for voltmods etc, please include a link back to this site or let us post your article.
A Closer Look
As mentioned before, the heatsink is the same as on the Radeon HD 4850. It uses a big copper base to cool the GPU, memory and voltage regulation circuitry.
Two, three or four HD 4830 cards can be combined in CrossFire to improve performance or image quality.
A single 6-pin PCI-Express power connector is required to power the card.
The GDDR3 memory chips are made by Qimonda (formerly Infineon) and carry the model number HYB18H512321BF-10. With a latency of 1.0 ns they should be good for at least 1000 MHz.
AMD uses their RV770 GPU on the Radeon HD 4830. Compared to the "regular" GPU, the number of shaders and texture unit is reduced via a locking mechanism. The GPU silicon remains the same for this change.