Introduction
We would like to thank FSP for supplying the review sample.
The FSP Dagger Pro 650 W is among the very few SFX PSUs featuring two EPS connectors, which makes it suitable for high-end mainboards and power-hungry CPUs. The new Dagger line from FSP consists of two models with respective capacities of 550 W and 650 W. In today's review, I will take a detailed look at the stronger unit with model number SDA2-650.
The SDA2-650 is fully modular and achieves a high power density score because of its compact dimensions. Currently, the highest-capacity SFX unit is
Corsair's SF750
, but still, 650 W out of such a small platform is an impressive feat. However, what matters the most is keeping performance high in all areas, and not compromising anywhere.
The SDA2-650 comes with a 92 mm double ball-bearing fan. In terms of dimensions, this is the largest fan an SFX unit can take. The previous Dagger with a capacity of 600 W couldn't keep up with the competition mostly because of a ripple problem on its +3.3V rail, so I am eager to see whether this new model can face off against the competition, which includes the EVGA SuperNOVA 650 GM also made by FSP but based on a different platform.
Specifications
FSP SDA2-650 Features & Specifications
Max. DC Output
650 W
PFC
Active PFC
Efficiency
ETA-S* & 80 PLUS Gold
Noise
LAMBDA-S (40-45 dB[A])*
Modular
✓
Intel C6/C7 Power State Support
✓
Operating Temperature
0–40 °C
Protections
Over Voltage Protection
Under Voltage Protection
Over Power Protection
Over Temperature Protection
Over Current Protection
Short Circuit Protection
Cooling
92 mm double ball-bearing fan (PLA09215B12H)
Semi-passive Operation
✗
Dimensions
125 mm (W) x 65 mm (H) x 98 mm (D)
Weight
0.89 kg (1.96 lb)
Compliance
SFX, EPS 2.92
Warranty
7 years
Price at Time of Review (excl. VAT)
$124.99
*The SDA2-650 is not certified by
Cybenetics
, but based on my results, it meets the cited Cybenetics certification.
FSP SDA2-650 Power Specifications
Rail
3.3 V
5 V
12 V
5 VSB
-12 V
Max. Power
20 A
20 A
54 A
2.5 A
0.3 A
120 W
648 W
12.5 W
3.6 W
Total Max. Power
650 W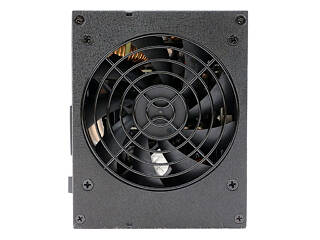 Cables and Connectors
Modular Cables
Description
Cable Count
Connector Count (Total)
Gauge
In-cable Capacitors
ATX connector 20+4 pin (500 mm)
1
1
18-22AWG
No
8 pin EPS12V (700 mm) / 4+4 pin EPS12V (150 mm)
1
2
18AWG
No
6+2 pin PCIe (350 mm)
2
2
18AWG
No
SATA (350 mm+100 mm+100 mm) / 4-pin Molex (+100 mm)
1
3 / 1
18AWG
No
SATA (350 mm+100 mm) / 4-pin Molex (+100 mm) / FDD (+100 mm)
1
2 / 1 / 1
18-22AWG
No
AC Power Cord (1380 mm) - C13 coupler
1
1
18AWG
-
The two EPS connectors affect how many PCIe connectors there are, of which there are also two. Strangely enough, the ATX and EPS cables are long, while the PCIe and the peripheral cables are short. Finally, the distance between peripheral connectors is short at 100 mm, but I will let this slide since SFX PSUs are for small cases.
Component Analysis
FSP SDA2-650 Parts Description
General Data
Manufacturer (OEM)
FSP
PCB Type
Double-sided
Primary Side
Transient Filter

4x Y caps, 2x X caps, 2x CM chokes, 1x MOV

Bridge Rectifier(s)
1x HY GBU1506U (600 V, 15 A @ 100 °C)
Inrush Current Protection
NTC thermistor & relay
APFC MOSFETs
2x ROHM Semiconductor R6030KNX (600 V, 30 A, 0.13 Ohm)
APFC Boost Diode
2x Infineon IDD06SG60C (600 V, 6 A @ 130 °C)
Hold-up Cap(s)
1x Nippon Chemi-Con (420 V, 330 uF, 2000 h @ 105 °C, KMZ)
Main Switch
1x Infineon SPA17N80C3 (800 V, 11 A @ 100 °C, 0.29 Ohm)
Reset Switch
1x Infineon IPD80R2K8CE (800 V, 1.1 A @ 100 °C, 2.8 Ohm)
Combo APFC/Switching Controller
FSP 6600 IC
Topology
Primary side: Active Clamp Reset Forward
Secondary side: Synchronous Rectification & DC-DC converters
Secondary Side
+12V
2x Infineon IPP023NE7N3 G (75 V, 120 A @ 100 °C, 2.3 mOhm)
5V & 3.3V
DC-DC converters: 4x Infineon BSC0902NS (30 V, 67 A @ 100 °C, 2.6 mOhm)
PWM controllers: ANPEC APW7159C
Filtering Capacitors
Electrolytics: 1x Nippon Chemi-Con (2 - 8,000 h @ 105 °C, LXZ), 2x Rubycon (3 - 6,000 h @ 105°C, YXG), 2x Rubycon (6 - 10,000 h @ 105 °C, ZLH)
Polymers: Teapo
Supervisor IC
SITI PS113A (OVP, UVP, SCP, PG)
Fan Model
Power Logic PLA09215B12H (92 mm, 12 V, 0.55 A, double ball bearing fan)
5VSB Circuit
Switching FET
CET CEB02N7G FET (700 V, 1.3 A @ 100 °C, 6.75 Ohm)
Standby PWM Controller
FSP 6601 IC (?)
Although the previous Dagger model used a half-bridge topology, which is among the most common nowadays because it offers good performance, FSP decided to go with its favorite topology with this unit, Active Clamp Reset Forward (ACRF). I am not that fond of ACRF because I thus far haven't seen a platform that uses it offer top performance on par with half-bridge and full-bridge topologies. On the other hand, ACRF platforms can achieve very long hold-up times with small bulk caps, which is a big advantage for compact PSUs.
The transient filter includes all the necessary parts, and there is also an NTC thermistor along with a bypass relay.
The APFC converter includes two FETs and an equal number of boost diodes, while the bulk cap is by Chemi-Con. The main switch is an Infineon SPA17N80C3, and the other switch is an IPD80R2K8CE FET by the same manufacturer.
On the secondary side, two Infineon FETs regulate the +12V rail, and a couple of VRMs handle the minor rails.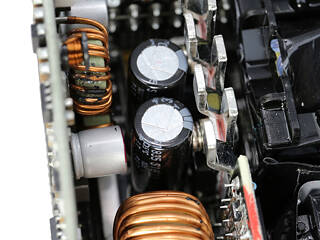 The electrolytic caps are of high quality since all of these belong to good lines of respected Japanese manufacturers (Rubycon and Chemi-Con).
At the front of the modular board are several polymer caps by Teapo that provide an extra ripple-filtering layer. The protections IC is installed in this section.
The 5VSB regulator circuit.
Soldering quality is good.
The cooling fan uses a double ball-bearing, which is the best choice for compact high-capacity PSUs.