Introduction
We would like to thank FSP for supplying the review sample.
The FSP Hydro PTM with 650 W maximum power output is a mid-capacity power supply for enthusiast users who don't mind spending a little more to get an efficient unit with good build quality and a nice external design. The HPT650M can easily support a system equipped with a potent CPU and high-end graphics card. Should you need to power a pair of energy hungry GPUs, you better invest in a stronger power supply.
The HPT650M is Platinum and ETA-A certified by 80 PLUS and Cybenetics labs respectively. It also has a LAMBDA-A noise certification, which shows that it operates quietly overall. The 135 mm fluid dynamic bearing fan FSP uses might not be supported by a semi-passive operation, but is driven by a relaxed fan speed profile.
Specifications
FSP HPT650M Features & Specifications
Max. DC Output
650 W
PFC
Active PFC
Efficiency
ETA-A & 80 PLUS Platinum
Noise
LAMBDA-A
Modular
✓
Intel C6/C7 Power State Support
✓
Operating temperature
0 °C - 50 °C
Protections
Over Voltage Protection
Under Voltage Protection
Over Power Protection
Over Temperature Protection
Over Current Protection
Short Circuit Protection
Cooling
135 mm Fluid Dynamic Bearing Fan (MGA13512HF-A25)
Semi-passive Operation
✗
Dimensions
152 mm (W) x 88 mm (H) x 172 mm (D)
Weight
1.7 kg (3.75 lb)
Compliance
ATX12V v2.31, EPS 2.92
Warranty
10 Years
Price at Time of Review (excl. VAT)
$119.99
All necessary protection features are included, and the ten-year warranty shows FSP's faith in the Hydro PTM 650 W. Finally, the unit's dimensions are quite large given the similar Seasonic Focus is only 140 mm deep.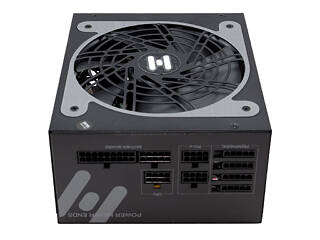 FSP HPT650M Power Specs
Rail
3.3V
5V
12V
5VSB
-12V
Max. Power
20 A
20 A
54.17 A
2.5 A
0.3 A
120 W
650 W
12.5 W
3.6 W
Total Max. Power
650 W
Cables and Connectors
Modular Cables
Description
Cable Count
Connector Count (Total)
Gauge
In Cable Capacitors
ATX connector 20+4 pin (600 mm)
1
1
18-22AWG
No
8 pin EPS12V (700 mm) / 4+4 EPS12V (+150 mm)
1
1 / 1
18AWG
No
6+2 pin PCIe (650 mm+150 mm)
1
2
18AWG
No
6+2 pin PCIe (500 mm+150 mm)
1
2
18AWG
No
SATA (500 mm+150 mm+150 mm+150 mm)
2
8
18AWG
No
SATA (500 mm+150 mm) / 4-pin Molex (150 mm+100 mm)
1
2 / 2
18AWG
No
SATA (500 mm+150 mm) / 4-pin Molex (150 mm) / FDD (+150 mm)
1
2 / 1 / 1
18-22AWG
No
AC Power Cord (1400 mm) - C13 coupler
1
1
16AWG
-
All cables are fully modular and sufficiently long. The inclusion of two EPS connectors is an advantage since it ensures compatibility with server and several high-end, single-socket motherboards in need of more power for the CPU area. A notable disadvantage is that both EPS connectors are on the same cable. A single EPS connector can deliver up to 336 W so even if thicker (16AWG) gauges were used, the cable still wouldn't be able to handle the full output of two EPS connectors.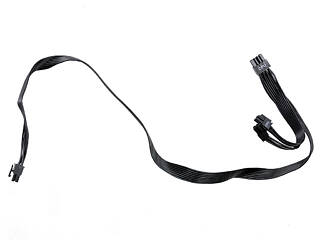 The number of PCIe and peripheral connectors is high enough for a 650 W unit, and the distance between those is sufficient at 150 mm (it could be less between PCIe connectors). Lastly, the FDD connector could be replaced with a 4-pin Molex connector since most users won't use it anyway.
Component Analysis
FSP HPT650M Parts Description
General Data
Manufacturer (OEM)
FSP
Platform Model
PTM
Primary Side
Transient Filter

4x Y caps, 2x X caps, 2x CM chokes, 1x MOV, 1x

SEN013DG
Bridge Rectifier(s)
1x GBJ1506 (600 V, 15 A @ 100 °C)
Inrush Current Protection
NTC Thermistor & Relay
APFC MOSFETs
2x STMicroelectronics STFH24N60M2 (650 V, 12 A @ 100 C°, 0.19 Ohm)
APFC Boost Diode
1x STMicroelectronics STPSC6H065D (650 V, 6 A @ 110 °C)
Hold-up Cap(s)
2x Nichicon GG (450 V, 270 uF each or 540 uF combined, 2000 h @ 105 °C)
Main Switchers
2x STMicroelectronics STFH24N60M2 (650 V, 12 A @ 100 °C, 0.19 Ohm)
APFC Controller
Infineon ICE2PCS02
Supporting IC: Fairchild KA393

Driver IC

1x Silicon Labs Si8233BD
Resonant Controller
Champion CM6901T2X
Topology
Primary side: Half-Bridge & LLC Resonant Controller
Secondary side: Synchronous Rectification & DC-DC converters
Secondary Side
+12V MOSFETS
2x Toshiba TPHR85 04PL (SOP Advance Series, 40 V, 150 A @ 25C°, 0.85 mOhm )
5V & 3.3V
DC-DC Converters: 6x Infineon BSC0901NS (30 V, 94 A @ 100 °C, 1.9 mOhm)
PWM Controller: APW7159C
Filtering Capacitors
Electrolytics: 6x KZE (1-5000h @ 105 °C), Rubycon ZLH (6-10000h @ 105 °C)
Polymers: Teapo (Taiwan)
Supervisor IC
SITI PS223 (OCP, OTP, OVP, UVP, SCP, PG)
Fan Model
Protechnic Electric MGA13512HF-A25 (135 mm, 12 V, 0.28 A, FDB)
5VSB Circuit
Rectifying Diode
International Rectifier IRFR1018E (60V, 56A @ 100 °C, 8.4 mOhm)
Standby PWM Controller
Power Integrations SC1225K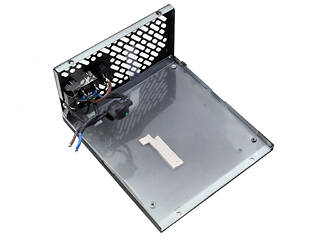 The platform uses a modern design. The primary side has a half-bridge topology along with an LLC resonant converter, while a synchronous rectification scheme and two DC-DC converters for the minor rails are used for the secondary side. However, the number of cables for power transfer purposes shows that the implementation could be better. In other modern platform, those cables have been replaced by thick PCB traces and/or bus bars, which increases internal airflow and leads to better thermal management.
The electrolytic caps are provided by Chemi-Con and Rubycon, and a number of polymer Teapo caps are also used. Some would expect nothing but Japanese caps in this price range, but Teapo caps are of generally good quality, and polymer caps can easily operate under tough conditions for long periods of time.