Wednesday, June 23rd 2010
Lexar Media, a leading global provider of memory products for digital media, today introduced a 64GB addition to the award-winning Crucial RealSSD C300 product line. The new 64GB RealSSD C300 drive, like its predecessors, natively supports SATA 6Gb/s, is backwards compatible with the SATA 3Gb/s interface, and provides scorching-fast read speeds of up to 355 MB/s and write speeds up to 75 MB/s. Competitively priced at US$149.99, the new 64GB C300 drive is available in a standard 2.5-inch form factor, and comes with a limited three-year warranty.
"The 64GB C300 drive is a natural extension of our award-winning Crucial RealSSD C300 product line. This aggressively priced 64GB C300 drive makes SSD technology more affordable than ever, delivers durability for mobile computing, and makes it a compelling boot drive for desktop PCs," said Robert Wheadon, Lexar Media senior worldwide SSD product manager.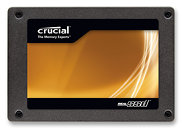 The 64GB, 128GB, and 256GB Crucial RealSSD C300 drives are available through select resellers worldwide and online.
Key Features:
The 64GB Crucial RealSSD C300 supports high-speed SATA 6Gb/s interfaces, for optimum read/write performance
Competitively priced with other performance drives at US$149.99
Leverages Micron RealSSD product design and industry-leading NAND innovations
As with the 128GB and 256GB C300 capacities, the 64GB C300 is available in a 2.5-inch form factor