Tuesday, October 25th 2011
callofduty.com has published a
blog entry
from developer Infinity Ward / Sledgehammer detailing some of the features and improvements that will be in the upcoming MW3, to be released on November 8th:
I'm extremely excited about the PC version of Modern Warfare 3 this year, because we've been taking your feedback since Modern Warfare 2,and the franchise as a whole, on what you wanted to see in the PC version of Modern Warfare 3 and the team at Infinity Ward and Sledgehammer Games has put aton of emphasis on delivering a PC experience that brings in all the great things we added in Modern Warfare 2:
Lobby System, Matchmaking with a Party, Matchmaking for Public Games, Steam Integration (Friends List, Server Browser,Achievements, Join on Friends)
While combining it with your favorite features from Call of Duty 4: Modern Warfare:
Dedicated Servers (Join your favorite or set up your own,without any 3rd party hosting requirements), In-game Server Browser that allows you to filter by ping, map, gametype, hardcore, voice, password, and more. In addition, we're supporting PC specific features that give you even more control over your experience like RCON, Custom Game Saving, NoGFX / Audio Card Requirement on DS.exe, Voice Chat, and SSAO.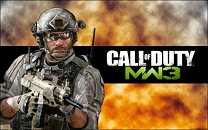 The blog also answers some hot-button questions, such as:
Will MW3 on PC have unique graphic options available?
Yes! You have a lot of graphic options, including enablingand disabling of new rendering features such as SSAO, you'll also be able to modify DOF, Shadows, Anti-Aliasing, Texture Resolution and more.

Will Modern Warfare 3 have Dedicated Servers?
Yes! Modern Warfare 3 supported matchmaking as well as Dedicated Servers, allowing players to find and filter via an in-game server browser or set-up their own Dedicated Server for complete control, without being restricted by any 3rd party hosting requirements. If looking for a Dedicated Server to join, if you choose not to set up your own, you can filter and favorite by Ping, Map, Gametype, Hardcore Variants, Voice, Password, and many other options.
Worryingly though:
Can we set our max FPS?
No. Setting Max FPS is not a user controllable option.
So, does this mean that gamers with 120Hz monitors will be stuck at 60fps gameplay? This surely would be a major annoyance and certainly would be for this writer. There's lots of other questions covered in the blog, but the decent graphics options are surely one of the things that make it stand out from a console port - a pet hate of PC gamers, with their vastly more powerful hardware. The maximum multiplayer count is just 18 currently, but this might increase by release day and of course, it will have LAN support. There's lots more good info over at the
blog
.