Friday, April 5th 2013

Advancements in PC graphics technology could be on the verge of a slump, according to GPU major AMD. In an interview with German publication Heise.de, AMD vice president of global channel sales, stated that his company doesn't believe there will be a DirectX 12 API, at least not as far as the company can see. The timing of this statement is particularly important, as both AMD and NVIDIA are expected to unveil next-generation graphics products by the end of the year.
Neither Microsoft's Windows 8 operating system, nor the rumored Windows "Blue" 8.1, could ship with a newer DirectX version. Taylor was responding to a question from Heise about next-generation GPUs and technologies they could be built around, to which he replied that normally, new DirectX versions stimulate introduction of new GPU architectures, but there won't be a DirectX 12, and so the company's next-generation GPUs will integrate other technologies. Answering another question, Taylor hinted that Battlefield 4, EA's upcoming entry to the hit online FPS multiplayer franchise, could be part of the company's next "Never Settle" bundle.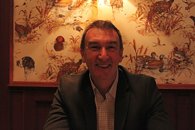 Source:
Heise.de