Thursday, June 19th 2014
Micron Technology, Inc., (Nasdaq:MU) today congratulates Daniel Skinner, Director, Mobile DRAM Architecture, on receiving the prestigious JEDEC Award of Excellence in recognition of his leadership as chairman of the LPDDR3 and LPDDR4 Task Groups. The Award of Excellence is the most prestigious award bestowed by the Association, and it recognizes an individual's sustained service to JEDEC and the standards community. Mr. Skinner is only the 10th individual to have been awarded this honor.
"Dan was instrumental in driving the development of LPDDR3 in a timely manner to meet the needs of the mobile industry," said JEDEC president John Kelly. "His continued leadership within JEDEC around LPDDR4 has been essential as he led the task group to identify next-generation mobile apps and develop a standard around the needed requirements to make those apps a reality."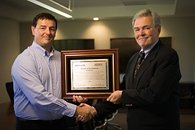 "Dan is an exceptional engineer and industry visionary, who is highly regarded by everyone he works with, including his Micron colleagues, partners, and customers. We couldn't be more proud of Dan on receiving this great honor," said Brian Shirley, Micron's vice president of memory technology and solutions. "The continued evolution of mobile low-power DRAM is instrumental to driving next-generation mobile user experiences and Dan can take credit in rallying the industry toward that next wave of mobile innovation."
LPDDR3 was essential to meeting the performance and memory density demands of smartphones and tablets and the development of LPDDR4 will continue to drive an enhanced mobile user experience.
"Since 2011, Dan has provided strong leadership in developing the JEDEC LPDDR3 and LPDDR4 specifications. His dedication, leadership, openness, creativeness, and collaborative style enabled JEDEC to provide LPDDR3 and LPDDR4 solutions in a timely manner to meet market demands," said Hung Vuong, Qualcomm's director of JEDEC standards and JEDEC JC-42.6 chairman. "With his contributions, these technologies will be a success in the industry for years to come."
Emerging LPDDR4 Standard
The LPDDR4 specification aims to double data rates while lowering energy per bit over previous-generation LPDDR3 devices. The faster I/O data rate delivers speeds up to 3200 Mb/s to enable displays with up to 4k x 2k resolution and 3D graphics on smartphones, tablets and other small form factors. The lower power consumption of LPDDR4 devices also gives designers the flexibility to use smaller batteries in their mobile designs, enabling smaller and thinner mobile devices.
The first publication of the LPDDR4 specification is scheduled to be available later this year. For more details about the emerging LPDDR4 standard, see Daniel Skinner's LPDDR4 JEDEC
presentation
(May 2013).