Friday, July 25th 2014
AMD's desktop processor and APU platforms are not expected to see any major changes till 2016, according to a BitsnChips report. The delay is attributed to a number of factors, including DDR4 memory proliferation (i.e. for DDR4 memory to get affordable enough for target consumers of APUs), and AMD's so-called "project Fast-Forward," which aims to place high-bandwidth memory next to the APU die, for the AMD's increasingly powerful integrated graphics solutions to overcome memory bottlenecks.
The company's upcoming "Carrizo" APU is targeted at low-TDP devices such as ultra-slim notebooks and tablets; and is the first chip to integrate AMD's next-generation "Excavator" CPU micro-architecture. "Carrizo" chips continue to use DDR3 system memory, and therefore it's possible that AMD may design a socket FM2+ chip based on "Excavator," probably leveraging newer silicon fab processes. But otherwise, socket FM2+ is here to stay.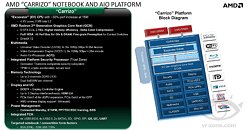 Sources: BitsnChips, VR-Zone