Tuesday, October 8th 2019

Yesterday Intel hosted an event in London, where it held a presentation and demonstration of new concept product. Simply called "The Element", this new products tries to introduce the concept of modular computing, where you can basically swap out parts and replace them with ease, to users of PCs who wanted this to happen for a long time.
If anyone remembers Razer's project Christine, which unfortunately didn't take off, this product should be of no surprise to them. The Element is a complete PC consisting out of CPU, RAM and Storage, with a PCIe slot attached to it. Featuring plenty of IO options like Thunderbolt, HDMI, Ethernet, USB, and Wi-Fi, The Element is a complete solution for computing. For the demo Intel soldered a BGA Xeon CPU with room for two SODIMM slots for memory and two M.2 ports for storage expansion, all cooled by a blower fan directly cooling the CPU heatsink. Power is supplied from PCIe slot (75 Watts) and 8 pin connector which would come from a regular PSU. There is also an option for the card to be powered by a 19 V power source if external power brick is provided.
While this comes as a PCIe card, there would be no regular AIB partners to release their own PCB design. Instead AIB partners would just be allowed to make small aesthetics adjustments like different cooling type (watercooling anyone?) and different designs of backplates.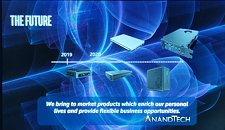 While in the development phase for now, this concept is planned for release sometime in Q1 2020, most likely availability will be at the end of Q1 or beginning of Q2. Pricing is still unknown and configurations of this product will be OEM dependant, so that still remains a mystery until further notice.

Source: AnandTech