Thursday, March 3rd 2022
The Radeon 680M integrated graphics powering the AMD Ryzen 6000-series mobile processors is proving to be an entry-level discrete-GPU killer. TechEpiphany posted a video presentation showing the iGPU's real-world gameplay performance with the AAA title "Cyberpunk 2077" at Full HD (1080p), with a little help from FidelityFX Super Resolution (FSR). TechEpiphany used an ASUS TUF GAMING F17 notebook powered by an AMD Ryzen 7 6800H "Rembrandt" processor that has the full Radeon 680M iGPU unlocked, with all its 12 RDNA2 compute units (768 stream processors), 12 Ray Accelerators, 16 ROPs, and 48 TMUs, enabled. The notebook also features a GeForce RTX 3050 Laptop GPU, but for this testing, it was disabled.
The first part of the video shows the game running at 1080p and Medium-High settings, with FSR set at Ultra Quality. Here, the iGPU is managing 30-40 FPS. Real-time ray tracing is disabled. In the second part, they enabled ray tracing and FidelityFX Super Resolution, but this is where the iGPU runs out of steam. Frame-rates drop to unplayable levels, but there still aren't any noticeable visual artifacts or rendering errors typically associated with iGPUs made to render games above their pay-grade. It's still impressive to see that AMD following through on its promise of bringing 1080p gaming across a broader range of titles. The TechEpiphany video presentation can be watched in the source link below.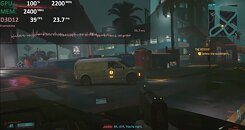 Source: TechEpiphany (YouTube)