Thursday, April 14th 2022

Last month, Intel released its Arc Alchemist lineup for mobile/laptop configurations. As expected, being the first discrete GPU that the company made, there are some hiccups here and there that happen along the way. Today, we have an interesting case of Intel Arc A350M getting a heavy performance boost with Dynamic Tuning Technology (DTT) disabled. The DTT is Intel's solution to automatically and dynamically allocate power between an Intel processor and an Intel Discrete Graphics Card to optimize performance and improve battery life. This is essentially a competing tech for AMD SmartShift and NVIDIA Dynamic Boost implementations. Thanks to a South Korean YouTuber, BullsLab, we have information that disabling DTT in drivers helps Arc 350M GPU reach higher performance targets.
He found when disabling DTT in drivers that the gaming performance improved significantly and that the Arc 350M was outputting 30-80 more frames per second. This is no slight improvement and shows that the drivers are still not yet mature. Creating a discrete graphics card is not an easy task, as noted here; however, we hope to see Intel put out more fixes in the coming weeks and hopefully end this strange behavior.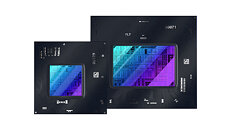 Below, you can see the YouTube video with benchmarks.

Source: via VideoCardz