Wednesday, November 19th 2008

Toshiba Corporation, the pioneer in small form factor hard disk drives (HDDs), today announced a new half-terabit HDD, the flagship model in a series of 5,400 RPM Serial-ATA (SATA) 3.0 Gb/s 2.5-inch HDDs offering enhanced features that will improve the user experience in mobile applications and other digital devices.
Available in capacities from 500GB to 120GB, the new series of quiet and durable drives is targeted for integration into notebook PCs, sub-notebooks, small form factor and energy star PCs, game consoles, external storage devices and consumer electronics products.
This new family raises the bar in acoustic performance for mainstream high-capacity HDDs. Advanced servo techniques combined with mechanical design changes minimize noise emanating from the drives, making them very quiet during operation. A further plus is that power consumption during data seek and read/write operation has been reduced by 0.5W, compared to Toshiba's current top-of-the-line 400GB HDD, to 1.7W and 1.4W, respectively.
In addition, optimization of mechanics and servo design boosts the durability of the series, to realize operating shock tolerances matching the highest levels available on the market today. To further protect user data against potentially hazardous external events, free-fall sensor (FFS) options are available in all models in the new series.
Toshiba's new drive series will begin shipping in production volumes to OEMs and distributors in December 2008 and will be exhibited at CES 2009 in January.
Toshiba Group, a Corporate Citizen of the Planet Earth, is committed to realizing a better environment. Guided by "Toshiba Group Environmental Vision 2050" the Group is implementing measures to boost environmental efficiency by 10 times in FY2050, against the benchmark of FY2000. The core target is to reduce projected CO2 emissions by a total equivalent to 117.7 million tons a year by FY2025, through the development and sales of highly efficient power supply equipment and systems, and the manufacture of environmentally conscious home appliances and office equipment. By working to mitigate global warming, make efficient use of resources and control management of chemicals, Toshiba Group creates value for people and promotes lifestyles in harmony with the Earth.
(1) Halogen Free Product
The new drives achieve chlorine and bromine concentrations below 900ppm for each substance, and an overall total below 1,500ppm, achieving the standard required for recognition as Toshiba environmentally conscious products (ECP).
(2) Improved energy consumption efficiency.
Compared to the 400GB model (MK4058GSX), the new 500GB HDD model (MK5055GSX) improves energy consumption efficiency , as defined under the Japanese legal standard, to 0.0012W/GB, a 20% improvement.
(3) Lower CO2 emissions during the product lifecycle
During their lifecycle, the new drives will release approximately 95g a year less CO2 than their benchmark models.
(4) RoHS compatible
The new drives comply with the European Union's RoHS directive for eliminating use of six hazardous substances in electrical and electronic equipment.
(5) The new series meets standards for certification as a standout Toshiba ECP
Toshiba is promoting an "Excellent ECP" program to stimulate creation of high value products offering exceptional environmental friendliness. For more information, visit
http://www.toshiba.co.jp/env/en/products/index.htm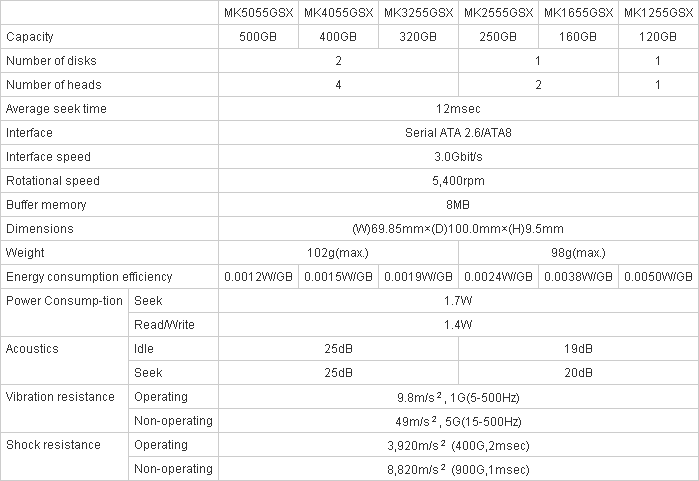 Source:
Toshiba