Monday, May 2nd 2011
Intel will give its category-defining Atom processor its next big update in Q4, 2011. Codenamed "Cedar Trail", Intel's next Atom processor will use the latest manufacturing process technologies, and up the feature-set a bit. The Cedar Trail platform combines the Atom "Cedar View" processor with a chipset similar to Intel NM10 from the current "Pine Trail". The platform is laid out in a similar 2-chip package. The first chip embeds a dual-core x86-64 processor, an integrated memory controller that supports single-channel DDR3 memory, and a new DirectX 10.1 compliant integrated GPU that supports 1080p video playback, it connects to the chipset over DMI.
Cedar View Atom processor will be built on Intel's 32 nm process. The new process chops TDP by 30%, while allowing higher clock speeds. Some of the first Cedar View processors are dual-core. Designed for low-power desktops and nettops, the Atom D2500 runs at 1.86 GHz, has no HyperThreading Technology (HTT), has 1 MB of shared cache, and 10W TDP. In contrast, the 45 nm "Pine View" Atom D525 processor achieves 1.83 GHz at 13W TDP. Intel will have a higher-performing part, the Atom D2700. The D2700 is clocked at 2.13 GHz, features HTT, and the TDP remains at 10W.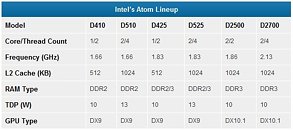 Source: Anandtech